US Department of Justice is prosecuting a woman for laughing at Jeff Sessions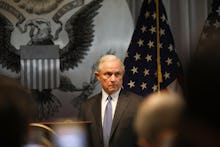 The US Department of Justice moved forward this week with pursuing charges against a 61-year-old woman who laughed at Jeff Sessions. Seriously, that's her alleged crime, laughing, and the prosecution is being carried out by the very department Sessions now oversees.
On Jan. 10, during Jeff Sessions confirmation hearing, Desiree Fairooz, an activist affiliated with the group Code Pink, heartily chuckled when Sen. Richard Shelby (R-Ala.) said that Sessions' record of "treating all Americans equally under the law is clear and well-documented," according to the Huffington Post.
The laugh was perhaps because of Sessions' well-documented history opposing legislation to provide equal rights to everyone, including his opposition to the Hate Crimes Prevention Act, which President Barack Obama signed into law in 2009, as CNN reported. Additionally, in the '80s Sessions was denied confirmation to a federal judgeship thanks to racist comments he reportedly made about African-Americans. 
According to the Department of Justice, Fairooz's laugh amounted to willful "disorderly and disruptive conduct" intended to "impede, disrupt and disturb the orderly conduct" of congressional proceedings, according to the Huffington Post. Fairooz was seated in the back of the room at the hearing. Her laughter had no visible impact on Shelby's opening remarks based on video of the hearings, Vox reported. When she is dragged from her seat by several armed officers the video shows Fairooz yelling, "Why am I being taken out of here? I was going to be quiet, and now you're going to have me arrested? For what?"
For its part, Fairooz's defense argued her laughter was merely a reflex she could not control, according to Vox.
If she is convicted, Fairooz faces a fine up to $500 and up to six months in prison for the laugh-related charge. Fairooz was also charged with another misdemeanor for "allegedly parading, demonstrating or picketing within a Capitol, evidently for her actions after she was being escorted from the room," according to Vox.
But all this is old hat to Fairooz who has a long and illustrious history with protesting. As Refinery29 reported, nearly a decade ago Fairooz put fake blood on her hands and confronted former Secretary of State Condoleezza Rice while yelling, "The blood of millions of Iraqis is on your hands."