Sally Yates will testify she warned White House about Michael Flynn's connection to Russia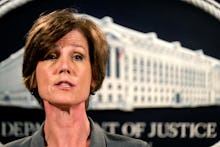 Former acting Attorney General Sally Yates will testify before a Senate panel next week that she warned the White House that national security advisor Michael Flynn could be compromised by Russian blackmail, CNN reported.
Yate's testimony will be in direct conflict with President Donald Trump's version of events. According to Business Insider, Trump previously claimed he was not aware that Flynn had discussed United States sanctions on Russia with Russia's ambassador to the U.S. during his presidential transition.
Sources told CNN, Yates traveled to Washington for a private meeting on January 26, three weeks before Flynn's resignation, with White House counsel Don McGahn and told him Flynn was lying about his meetings with Russian Ambassador Sergei Kislyak. Additionally, sources said, Yates expressed "serious concerns" to McGahn and suggested Flynn could be fired.
But Trump and his administration continued to support Flynn right up until the moment he tendered his resignation letter on February 13. Just hours before he resigned, Business Insider reported, White House counsel Kellyanne Conway said in an interview that Flynn still "had the full confidence of the president."
In his letter of resignation, Mic reported in February, Flynn said he "inadvertently" briefed Vice President Mike Pence with "incomplete information regarding my phone calls with the Russian ambassador." 
Flynn added in his letter, "Throughout my over thirty three years of honorable military service, and my tenure as the national security advisor, I have always performed my duties with the utmost of integrity and honesty to those I have served, to include the president of the United States. I am tendering my resignation, honored to have served our nation and the American people in such a distinguished way."
Yates was fired as acting attorney general in late January after refusing to enforce Trump's executive order that would have barred entry to the United States for people from seven Muslim-majority nations. At the time of her firing, Mic reported, the White House said in a statement that Yates had "betrayed the Department of Justice by refusing to enforce a legal order designed to protect the citizens of the United States," and was an "Obama administration appointee who is weak on borders and very weak on illegal immigration."