Jordan Edwards Shooting: Roy Oliver, officer who fatally shot 15-year-old, is fired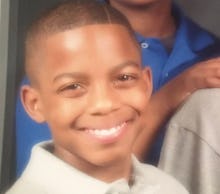 Roy Oliver, the Texas police officer who shot and killed 15-year-old Jordan Edwards in Balch Springs, Texas, was fired on Tuesday, according to the New York Times.
Edwards, a high school freshman and honor roll student, was leaving a party with his 16-year-old brother, Mic reported on Monday, along with three other teenaged friends when they heard gunshots.
Officers initially said they were responding to a call of "drunk teens" at the time. Balch Springs Police Chief Jonathan Haber said that the teens' vehicle was "backing down the street" in a manner that was threatening to officers, according to the Washington Post. Later Haber said he "misspoke," and that the vehicle was actually driving away when Oliver opened fire.
However, on Tuesday, Haber fired Oliver after an internal investigation into the shooting, the New York Times reported. Prosecutors are currently investigating the shooting and could bring charges against Oliver.
Haber refused to release video footage of the event publicly while the shooting is being investigated, but did offer condolences to the family saying in part, "On behalf of the entire Balch Springs Police Department, and the city of Balch Springs we express our deep, sincere condolences to the family. We will continue to reach out to the parents and keep them informed as we move forward from this point."
The family of Edwards released a statement on Tuesday following the termination of Oliver, which read in part:
"We are grateful the decision has been made to terminate the officer responsible for Jordan's murder. Over the past 24 hours Chief Haber has made commendable strides toward justice. However, there remains a long road ahead. We anxiously await the officer's identification and arrest for the crime of murder. The magnitude of his horrible actions cannot be overstated. We fully expect an equivalent response from those responsible for investigating and punishing the crime."
The family additionally noted that Edwards' 16-year-old brother and friends not only witnessed his horrific death, but were also "immediately treated like common criminals by other officers; manhandled, intimidated and arrested, while their brother lay dying in the front seat."
Read the full statement from the Edwards family in the tweet below.