World Press Freedom Day: Here's a list of the worst places to be a journalist in 2017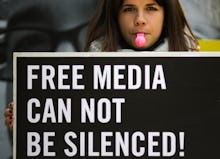 Today's era of fake news and alternative facts makes being a good journalist an even more difficult job. But in some parts of the world, being a journalist can actually get you locked up — or even killed.
According to international watchdog groups like the Committee to Protect Journalists, attacks on press freedom are more prevalent now than perhaps ever before.
A record 259 journalists worldwide were jailed or imprisoned between Jan. 1, 2016, and Dec. 1, 2016. Elana Beiser, lead author of the CPJ's analysis, told PBS it was the highest total since the organization began tracking the numbers in 1990. A 2017 report from Freedom House also found that global press freedom has reached a 13-year low, with only 13% of the world's population having access to a free press.
So far this year, at least eight journalists have been killed in the line of duty, some just for doing their jobs, according to CPJ.
In honor of World Press Freedom Day, here are five countries where press freedom is most under attack:
Turkey
Amnesty International estimated a combined 120 journalists now sit in Turkish prisons as a result of a government crackdown on the press that began in 2016.
In response to a failed military coup in July, Turkish President Recep Tayyip Erdogan and his ruling AKP party have closed at least 156 media outlets, resulting in layoffs for an estimated 2,500 journalists and other media workers.
Several cartoonists and journalists, including reporter Deniz Yücel of Germany's Die Welt newspaper,   have been arrested and charged with supposed terrorism-related offenses. Their alleged crimes include spreading propaganda and incitement of hatred, some simply for sharing posts on Twitter.
On April 29, the Turkish government blocked access to Wikipedia because the site refused to remove language describing Turkey's cooperation with alleged "terror groups." Wikipedia cofounder Jimmy Wales condemned the censorship on Twitter:
Turkish authorities have argued the crackdowns are necessary security measures in light of the failed coup.
North Korea
Out of 180 nations, North Korea ranked last in terms of world press freedom, according to the latest index report released by France's Reporters Without Borders watchdog group.
The state-controlled Korean Central News Agency is the only source of official news for North Korea's estimated 25 million citizens. Leader Kim Jung-un has allowed his people greater access to cell phones in recent years, but the government still prevents North Koreans from accessing outside internet or global news services.
In 2014, the country infamously hacked Sony Pictures Entertainment in an effort to prevent the company's release of the satirical film The Interview, which mocked Kim and his nation's repressive regime.
China
Last year, China ranked second in the world for number of journalists jailed, with at least 38 reporters imprisoned between Jan. 1, 2016, and Dec. 1, 2016. 
Freedom House has estimated a total of 111 journalists, writers and activists now sit in Chinese prisons. Reporters Without Borders called Chinese President Xi Jinping "the planet's leading censor and press freedom predator."
Eritrea
At least 11 journalists are currently behind bars in President Issayas Afeworki's country, some of whom have notoriously been locked in steel containers for their reporting. One of the African nation's most famous prisoners is Eritrean-Swedish journalist Dawit Isaak, who has been detained there for 16 years.
Isaak was one of several journalists arrested by Eritrean authorities in 2001 after an independent press ban enacted in 2000, according to CPJ. He hasn't been seen or heard from since 2005, according to the United Nations Educational, Scientific and Cultural Organization, which awarded Isaak its annual Guillermo Cano World Press Freedom Prize in March.
"I sincerely hope that with this award the world will say, 'Free Dawit Isaak Now,'" UNESCO president Cilla Benkö said in a press release.
Mexico
Reporters Without Borders called Mexico the Western hemisphere's "deadliest country for the media."   According to the New York Times, at least 104 journalists have been murdered in Mexico since 2000.
Mexican radio journalist Filiberto Alvarez was fatally shot on Saturday, the fifth journalist killed in Mexico so far in 2017, according to multiple sources. Alvarez joined a list including La Jornada correspondent Miroslava Breach Velducea, who was fatally shot at close range in her car by an unknown assailant on March 23. 
InsightCrime reported Breach Velducea had recently investigated "the displacement of hundreds of families by drug trafficking organizations in Chihuahua, and organized crime's infiltration of local elections."