Alton Sterling DOJ decision rips open wounds for slain black man's family, BLM activists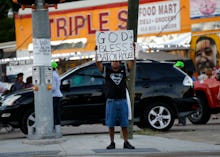 Baton Rouge, Louisiana, police officers Howie Lake and Blane Salamoni will not face federal charges over the July 2016 shooting death of Alton Sterling, reports say. The news has ripped open wounds among members of the slain black man's family and the Black Lives Matter activists who rallied around the case.
The idea that Lake and Salamoni, who have been on paid administrative leave for nearly 10 months, will not be held accountable for killing Sterling is too much for his relatives.
"It hurts so bad," Sandra Sterling, an aunt of Alton Sterling, said in an interview with WBRZ on Tuesday. "I was trying to prepare myself, I'm telling you. It's a horrible pain. It's like going back to the first day all over again."
On Wednesday afternoon, acting U.S. attorney Corey Amundson will hold a press conference on the investigation into the July 5 shooting. The imminent DOJ decision, first reported by the Washington Post Tuesday afternoon, also outraged activists in the Movement for Black Lives. 
"The course of events we've seen here in Louisiana since Alton Sterling's death are representative of the longstanding history of violence that is sanctioned by the state and mistrust in the police," Myra Richardson, organizer of the Baton Rough youth group The Wave said in a statement released by the movement on Tuesday evening. "Knowing that we will never get closure for Alton Sterling's family and that his killers remain employed and paid by taxpayers is the real injustice."
Ash-Lee Henderson, co-executive director of the Tennessee-based Highlander Research and Education Center and BLM activist, said the DOJ decision might be sending a message to bad actors in the law enforcement community. Henderson said:
"Multiple videos depicted the horrific encounter that resulted in Sterling's murder, yet the officers, who swore to protect, serve and uphold the law, will face no punishment for taking Sterling's life because they're protected and emboldened by a system that does not — and has never — valued black lives."
Although federal officials had not communicated their decision to state leaders or even Sterling's family, the local Baton Rouge community held a vigil on Tuesday night after the reports. The peaceful event was in contrast to the days of protests in 2016 that resulted in mass arrests.
At the rally, another one of Alton Sterling's aunt, Veda Washington-Abusaleh, told local paper the Times-Picayune that she was disappointed with the Justice Department conduct amid rumors that they were going to announce their decision on Tuesday.
"The [DOJ] lawyers called and said they have not made a decision," Washington-Abusaleh said. "Ain't that something? But the Washington Post called us here [in Baton Rouge]. ... We need closure, we need a conviction. We need justice."
May 3, 2017, 12:30 p.m. Eastern: This story has been updated.
Correction: May 3, 2017