'Code Vein' for PS4, Xbox One, PC and Nintendo Switch: Trailer reveals exciting new game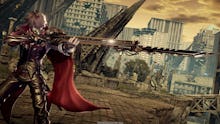 Code Vein is an upcoming action role-playing game from Bandai Namco Entertainment that looks to combine the moody combat of Dark Souls with anime aesthetics. With menacing enemies, methodical combat and a distinctly oppressive atmosphere, it looks like a worthy successor to the excellent Souls franchise. The first trailer detailing exactly what we can expect from the game has dropped — and it looks like a bloody good time.
Code Vein PS4, Xbox One and PC: What we learned from the trailer
Previously teased with the tagline "Prepare to Dine," a play on Dark Souls' recognizable "Prepare to Die" imperative, Code Vein is a fantastical story of vampires and their eternal torment. It's not a stretch to view it as the next logical step for the series.
Detailed in the trailer is the "companion" mechanic, which will allow players to choose their own partner from the ready and willing citizens of Vein. There's the appearance of what will likely be an additional layer of strategy settled on top of what looks like challenging combat with the companion system. Choosing a partner you vibe with in-game — much like in real life — could make or break your experience with the game. 
Code Vein: Xbox One/PS4 release date? 
Unfortunately, the trailer gave no indication of whether we'll see Code Vein on PlayStation 4, Xbox One or PC. It would be interesting to see it make a splash on the Nintendo Switch as well, but that's information we'll have to ascertain at a later date. If it follows a similar release plan as the Dark Souls titles, it will likely release on Xbox One, PlayStation 4 and PC. 
More gaming news, updates, tips and tricks
Check out the latest from Mic, including our deep dive into how female Overwatch players are dealing with online harassment, an article about a fan movement advocating for more same-sex romance options in Mass Effect, a personal essay about JonTron written by a fellow Iranian-American and an article looking at cultural diversity in Overwatch.