Justice Department confirms that it will not charge officers who killed Alton Sterling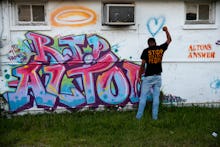 Corey Amundson, the acting U.S. attorney for the middle district of Louisiana, confirmed Wednesday that no charges will be filed against the Baton Rouge police officers involved in the fatal shooting of Alton Sterling in July.
In a press conference from the Baton Rouge federal courthouse, Amundson said his investigators and independent experts agree that there is not enough evidence to support federal criminal civil rights charges against Officers Howie Lake II and Blane Salamoni. Based on the letter of the law, neither Lake nor Salamoni willfully and knowingly violated Sterling's civil rights, the U.S. attorney said.
"Under this standard it is not enough to show that an officer acted recklessly, or with negligence, or by mistake, exercise bad judgment, use poor tactics, or even that the officer escalated the situation where he could have de-escalated it," Amundson said during the press conference.
"Those are not violations of federal criminal civil rights law," he said.
The announcement comes a day after multiple national news organization preemptively broke the news that the DOJ would not bring federal criminal civil rights charges against the officers.
The news ripped open wounds for Sterling's family and Black Lives Matter activists, who waited nearly 10 months for word on the federal probe into the shooting. Family members said they've struggled to grasp why Sterling, who was reportedly selling homemade CDs outside of a Baton Rouge corner store, ended up dead and the policemen responsible remain employed.
Sterling, a 37-year-old resident of Baton Rouge, encountered Lake and Salamoni on July 5, 2016, outside of a local Triple S Mart. The officers arrived on the scene after an anonymous caller reported that Sterling had threatened him with a handgun.
Authorities said Lake and Salamoni first used a stun gun on Sterling before tackling him to the ground. After one of the officers shouted that Sterling had a gun, multiple shots were fired into Sterling's chest and back.
(Editor's note: The following video contains graphic footage. View with discretion.)
During Wednesday's press conference, Amundson said investigators could not determine that the officers didn't reasonably believe that Sterling, who was armed, reached for his gun. "We are unable to establish beyond a reasonable doubt the precise location of Mr. Sterling's hand at the moment at which the officer states on the recording that Mr. Sterling was 'going for a gun,'" the U.S. attorney said.
Amundson also said he met with Sterling's family before publicly announcing the findings in the case, and offered them his condolences. "There are no winners here," he said during the press conference. "And there are no victories for anybody. A man has died. A father, a nephew has died. My heart goes out to the family."
Local leaders and activists have already approached Louisiana state Attorney General Jeff Landry and asked his office to conduct a separate review of the case. Amundson confirmed Wednesday that the U.S. Attorney's Office had turned over evidence, so that Landry can conduct a review.
May 3, 2017, 3:21 p.m. Eastern: This story has been updated.