'Mario Kart 8 Deluxe' Best Karts: Top builds to take the gold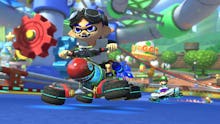 If you plan on tearing up the track in Mario Kart 8 Deluxe, you've got to have the right kart and racer to back you up. Taking a close look at the character classes, karts, wheels and other pieces available to you before you burn rubber could mean the difference between dragging along in last place and crossing the finish line as a winner. 
We've already gone over some of the best builds you should consider for 200cc races. Here are some of our suggestions for the best kart for each play style, from personal experience and testing. 
Mario Kart 8 Deluxe: Finding the best kart for every player
Choosing the right kart isn't the only thing you need to concern yourself with when it comes to Mario Kart 8 Deluxe. You've also got to make sure you choose a character that works with the build you've put together. So keep in mind that these kart ideas are subjective, as your mileage will vary (quite literally) depending on all of the factors involved. 
For example, a "heavy" character is going to change things a bit if you choose a kart with quick acceleration. Make sure to pay attention to these things when you set out to create the build that's right for you, and always keep your opponent in mind as well. Make sure you're always looking for the best combination of kart, tires, glider and racer and for better opportunities as situations arise. 
Mario Kart 8 Deluxe: Best kart combination for high speeds
If you're looking to burn up each track and you aspire to be like Talladega Nights' Ricky Bobby ("You gotta go fast!"), then choose the Circuit Special, B-Dasher or a bike of your choice with Roller wheels, which offer the best acceleration and handling. This will balance out your speed requirements. The Roller wheels are a little light on speed, but when you have a kart that's handling more than that, it won't be as much of a concern. 
You should be able to both accelerate to top speeds and smoke anyone who dares get in your way with this kart build. The gliders don't make that much of a difference here, so choose one that works for you -- the Parafoil is always a good standby. 
Mario Kart 8 Deluxe: Best kart combination for agility
If you're not as concerned with top speeds and want to make sure maneuverability is key, you'll want to opt for a Landship, Biddybuggy or Mr. Scooty with Sponge or Wood wheels and a Peach Parasol, Parafoil, Hylian Kite or Cloud glider. This should ensure you're "light on your feet," as it were, and able to take the curves without spinning out at top speed. This would also be a great build for going online and getting started with competitive and multiplayer modes if you're a beginner. 
Mario Kart 8 Deluxe: Best kart combination for handling 
If you're less concerned with acceleration and speed and want to make sure you're staying on the track and navigating curves with ease, you'll want more from your kart, and you'll need to choose a character that's a little heavier to make your kart choices matter as well. Choose a Blue Falcon or Pipeframe for handling and speed, and Slim or Azure Rollers for tires. You should see a significant boost in handling, but make sure you account for your loss in acceleration and speed with these parts. 
Check out more Mario Kart 8 Deluxe news, tips and tricks
If you're anxious to get racing in Mario Kart 8 Deluxe, check out our video gameplay of the first 20 minutes of the game and find out the eight characters the game needs ASAP. Check out the best techniques to race with and learn how you can buy the game bundled with the console, including one bundle from Nintendo. Find out if we're expecting DLC and our initial impressions of the new console it's on from back in January. Or you can play Mario Kart 64 on a newer console instead, if you're looking for some nostalgic throwback. And when all else fails, back that thang up.