Obamas announce $2-million personal donation to support summer jobs in Chicago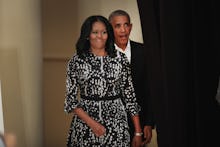 On Wednesday, during a visit to Chicago, former President Barack Obama and former first lady Michelle Obama announced they are personally donating $2 million to support the development of summer jobs for young people this year.
"We don't want to wait for a building," Obama said in a video shared by ABC News. "One of the things that we will be starting this year is Michelle and I personally are going to donate $2 million to our summer jobs programs here in the community, so that right away, young people can get to work and we can start providing opportunities to all of them."
The Obamas made the announcement while presenting a 3-D proposed plan for his presidential center that will be developed over the next four years in Chicago's Jackson Park neighborhood. In his announcement, Obama noted that he hopes his center will combat Chicago's public image as a violent city.
"As somebody who has not been right here in Chicago over the last couple years, whenever I visit, I tell people, Chicago's never looked more beautiful. It has, it has never sparkled more," Obama added. "And yet, if you ask a lot of people outside of Chicago about Chicago, what's the first thing they talk about? They talk about the violence."
The former president said he and his staff will work with the city of Chicago and its businesses to reach out to at-risk youth and offer jobs as a productive way to spend their summer. Additionally, HuffPost reported, Obama hopes to reach older youth who are readying themselves for the workforce to offer apprenticeships, which may, in turn, generate full-time work. As Obama noted, "We want to make sure that some of those young people can get trained so people don't say, 'Why didn't you hire anybody from the neighborhood?'"
Obama's presidential center is slated for completion in 2021 and will cost an estimated $500 million to build, according to the Chicago Tribune. The center will create an estimated 200 to 300 permanent jobs, HuffPost reported. Economic development, Obama said, could also result in an additional 2,000 jobs.