Steven Munoz, new Trump State Department official, was accused of multiple sexual assaults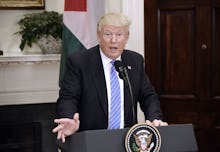 Steven Munoz landed a high-profile job with the Trump administration in January as the assistant chief of visits. In his role, Munoz will run an office of up to 10 staffers who will organize visits for foreign heads of state to the U.S. These meetings may or may not include President Donald Trump, according to ProPublica. 
The otherwise unremarkable appointment is now making news for one very significant reason: Munoz was accused of sexually assaulting five male freshmen when he was a student at The Citadel, The Military College of South Carolina, ProPublica reported.
The allegations, dating back to 2009, claim Munoz assaulted several students and used his position as an upperclassmen to intimidate his victims, Buzzfeed News reported. At the time, The Citadel issued a statement to cadets which read in part:
"In compliance with provisions of the federal Jeanne Clery Disclosure of Campus Security Policy and Campus Crime Statistics Act of 1990, The Citadel Public Safety Department is giving notice of recently received reports concerning a recent graduate. These reports allege that, while a cadet, the individual had inappropriate contact of a sexual nature with cadets. The circumstances of these assaults, which occurred 18 months or more ago, suggest that the assailant used his authority over the victims to get close to them."
An investigation by The Citadel found that "certain assaults likely occurred," however a local prosecutor declined to seek an indictment, ProPublica reported. Munoz's lawyer, Andy Savage, denied the allegations, telling ProPublica, "I believe that certain disgruntled cadets made exaggerated claims of wrongdoing concerning Munoz's participation in boorish behavior that was historically tacitly approved, if not encouraged, by the Institution."
A State Department spokesperson explained to the New York Daily News that Munoz was hired in January and that "many aspects of an individual's life" are examined when determining security clearances, but "access to classified information shall only be granted following an appropriate investigation and the determination that the applicant's personal and professional history affirmatively indicates, among other factors, loyalty, strength of character, trustworthiness, honesty and reliability."
The hiring of Munoz further highlights significant flaws in the Trump administration's vetting process of appointees. As Propublica noted, the administration has already fired multiple employees, some just weeks into the job, over a variety of reasons. In February, Politico reported, Trump had to dismiss six White House staffers over failed background checks. An aid to Ben Carson was also unceremoniously let go in February after it surfaced that he wrote critical things about Trump, according to the New York Times. And on Monday, Sally Yates, who was acting attorney general when Trump became president, is expected to testify before a Senate panel that she warned the White House that national security adviser Michael Flynn could be compromised by Russian blackmail more than three weeks before his eventual resignation.