French Election: Obama endorses Emmanuel Macron, progressive presidential candidate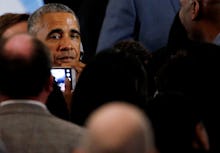 Barack Obama has endorsed Emmanuel Macron in France's presidential election against far right nationalist party candidate Marine La Pen, whose rise to political prominence has been compared to president Donald Trump's.
"I have admired the campaign that Emmanuel Macron has run," Obama says in the video. "He has stood up for liberal values. He put forward a vision for the important role that France plays in Europe and around the world. And he is committed to a better future for the French people."
Europe still loves Obama
A 2016 Pew Research poll showed 77% of people in the European nations polled, including France, expressed ongoing confidence in then-President Barack Obama. Fifty nine percent of Europeans felt the same about Hillary Clinton while only 9% expressed confidence in then-candidate Trump.
While Le Pen's conservative populist rise in France has been compared to President Donald Trump's rise in the U.S., Macron has been likened to France's version of Obama.
In his video endorsement, Obama seemed to take a dig at Le Pen's alleged fearmongering about immigrants as well as the perceived negative influences of the EU and globalism both in Europe and in France.
"[Macron] appeals to people's hopes, and not their fears," Obama says, echoing remarks Macron has made about Le Pen stoking fear in the French people. "I know that you face many challenges. ... Because of how important this election is, I also want you to know that I am supporting Emmanuel Macron to lead your forward. En March! Viva la France!" Obama added.
France's final stretch
Macron is expected to win the second and final round of the French election on May 7, but Le Pen is not out of the race yet. 
A Bloomberg average of France presidential polls shows 60.5% of the French supporting the progressive centrist Macron and 39.5% supporting Le Pen.