'Star Wars' Day secrets to saving money — plus free stuff you can get on May the Fourth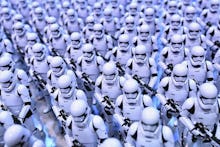 Cinco de Mayo has nothing on the Star Wars unofficial holiday, "May the Fourth Be With You." The fan-driven day marks a time to reflect, re-watch and regurgitate the dialogue and splendor the franchise has gifted to the galaxy.
Already caught up watching the movies, making K-2SO brownies or trying your hand at Yoda's root leaf stew? Don't worry! There's more to do.
Take a few minutes to reflect on some of the valuable personal finance lessons bestowed upon us by the saga. Inspired by our Star Wars fanatic friends at Kiplinger, Mic compiled the best four (get it?) money lessons hidden in the films, then threw in a fifth tip — full of free stuff and discounts you can get on Thursday. Read on.
1. Don't pull a Han Solo
We all borrow money at some point in our life, but Han Solo demonstrated what "not to do" when you take a loan in Episode IV. Solo tries to outrun Jabba the Hutt on a loan he owes, but later in the Star Wars timely, things go downhill for the smuggler. Solo is captured and handed over to bounty hunter Boba Fett. So skip that page from Han Solo's book on debt: Don't run.
Mic tip: Never try to hide from debt because — as you can see from our friend Han Solo — it always finds you. Instead, as NerdWallet suggests, devise a "battle" plan in which you identify the reason you got in over your head, remember getting out of debt will take time — then take action, by paying down one credit card to start and considering debt consolidation. Still, be wary of slick debt consolidation organizations. Some promise the world and only deliver more of a headache. More surprising tips on wiping out debt are here.
2. Weigh reward versus risk at work
Although the entire Star Wars series is about taking chances for a higher reward, this point is best illustrated during Episode II: Attack of the Clones, when Zam the bounty hunter is offered a significant reward if she kills Queen Amidala. Her plot is foiled by Obi Wan and Anakin and she meets an untimely death. Sometimes a risk isn't worth the reward. 
Mic tip: You can make big bucks for dangerous jobs such as golf ball diver, but you don't have to be a gator wrangler to experience thrills at work. For instance, young people can start their own dream businesses and (in some cases) make bank quickly. If you're bored easily, look into quirky jobs that pay.
3. Slow and steady wins the race
Today we have eight Star Wars feature films to enjoy, built and developed over the course of 40 years, with more on the way! Each film was meticulously scripted (well, most of them, anyway), special effects developed and characters evolved, which is why this series is so beloved.
Mic tip: Like the development of the Star Wars series, growing your nest egg will take time. Contribute to your 401(k) at work, open a Roth IRA and make regular contributions — start with $20 a week and then increase your contribution as your salary grows. You will ultimately save a blockbuster amount of money in the long run. Here's how much money you should have saved at every age.
4. Purge what you don't use
Remember when Rey digs through the massive wreckage of the Imperial Star Destroyer and comes away with a few valuable items, which are used in exchange for food rations? We all have our own "wreckage," whether a cluttered garage or a crowded closet of clothes, peppered with a few special gems. You can sift through the rubble to find a few valuable items to keep — and then purge the superfluous stuff. You might even save money.
Mic tip: Free yourself from extra "stuff" and not only clear the clutter, but also make some extra cash. This includes shredding documents, selling or donating items you keep in a storage space or your closet, downsizing your pantry and canceling subscriptions you no longer use.
5. Grab Star Wars Day 2017 discounts and freebies while you can
As with any great celebration, retailers throughout the country are offering giveaway and discounts to mark the day. At Pottery Barn, you can save 20% on the "Pottery Barn Star Wars Collection" with promo code PKSTARWARS through May 4; Best Buy is offering a number of discounts on Star Wars merchandise; and you can up to 60% off Star Wars items on ThinkGeek.com through May 6.
Build a Bear is giving away a free lightsaber with a $50 Star Wars Furry Friend purchase — and for real furry friends, Petco has slashed prices on Star Wars toys. Gamers can hit GameStop for a slew of discounts on Star Wars items, including 30% off Star Wars housewares. Meanwhile, if you want to purchase the films, Amazon Video's Star Wars six-movie digital collection is currently $79.99 — though waiting for a deeper discount to come back around (or buying used) might be wiser.
Here are two more extensive lists from Heavy and GoBankingRates of free stuff and discounts you can get in celebration of Star Wars Day.
Sign up for The Payoff — your weekly crash course on how to live your best financial life. Additionally, for all your burning money questions, check out Mic's credit, savings, career, investing and health care hubs for more information — that pays off.