Will the Senate pass the GOP's "Trumpcare" bill? Here's what to expect.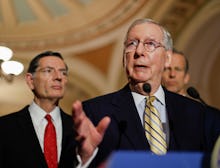 House Republicans barely passed legislation to repeal and replace the Affordable Care Act on Thursday, but now the bill must make it through the Senate before President Donald Trump can sign it into law. Meanwhile, Senate Republicans have maintained they aren't likely to support the proposal, at least not right off the bat.
House lawmakers voted 217 to 213 to pass the health care bill, dubbed the American Health Care Act and known colloquially as Trumpcare. Twenty Republicans broke party lines to vote against their own legislation.
On Thursday morning, Republican Sen. Bob Corker told MSNBC there was "zero" chance the bill would receive a quick up-or-down vote in Congress' upper chamber.
"That's not the way it's going to work," Corker said during an interview with Morning Joe. "Over here [in the Senate] people want to make sure that it's something that's going to work for the American people. ... My guess is we're going to spend at least a month looking at the issue, making sure that it passes the test of time."
Corker's comments echoed earlier sentiments from Senate Majority Leader Mitch McConnell (R-Ky.), who met Tuesday with a group of conservative and moderate Republican senators he had previously convened to discuss how to amass the 51 votes needed to pass the proposed health care legislation, the Hill reported. 
"When they send it over here, it'll be a real big challenge on the Senate side as well,," McConnell told reporters earlier in the week, according to the Denver Post. "You'll have an opportunity to file lots of stories about the discussions as we move toward trying to achieve that."
The "pre-existing" problem
Perhaps the most controversial measure proposed by the newly passed AHCA is allowing states to opt out of the ACA's health insurance mandate. Under current law, all Americans are required to buy health insurance — or pay a penalty in lieu of — and insurers are similarly required to cover people with pre-existing conditions.
Anywhere from 16 million to 20 million Americans have become insured since the ACA became law in 2010. Before that, many were priced out of buying health chronic diseases like cancer, asthma and HIV. Should the ACHA be enacted, things like sexual assault, domestic violence and caesarean sections would also be categorized as a pre-existing condition, according to multiple reports.
Some Republicans strongly dislike the individual mandate, but the nonpartisan Congressional Budget Office projected that the GOP's first proposal for repealing the ACA — which would have abolished the aforementioned mandate — would have caused 24 million Americans to lose their health insurance coverage by 2026.
House Republicans previously refused to pass that version in March, forcing Speaker Paul Ryan to pull the bill from the floor after realizing his party didn't have the votes to pass it.
A Politico/Morning Consult poll released Wednesday found that 50% of all voters oppose giving states the opportunity to opt out of requiring insurances to cover pre-existing conditions. Broken down along party lines, the poll also showed that more voters in both parties are against such exemptions than support them, Politico reported.
"Fifty-two percent of Democrats and 48% of Republicans oppose allowing states to opt out of requiring insurance companies to cover pre-existing conditions," Morning Consult cofounder and chief research officer Kyle Dropp told Politico. "In this polarized political climate, this is one issue where Democrats and Republicans largely agree."
On April 26, Rep. Tom MacArthur (R-N.J.) negotiated with the House Freedom Caucus on the amendment to allow states to apply for a waiver that exempts them from certain ACA requirements, including the pre-existing conditions mandate. States that don't receive a waiver will set up "high-risk pools" that permit insurers to charge people with pre-existing conditions much higher premiums, which some experts project would eventually make coverage unaffordable and out of reach for many Americans.
"In the past, monthly premiums in state high-risk pools could be up to 200% higher than in the individual (nongroup) market," AARP senior strategic policy advisers Lynda Flowers and Claire Noel-Miller wrote in a blog post prior to the House passage of the bill. "Consequently, only a small fraction of those with preexisting conditions could afford to buy a plan."
Despite the criticism, Trump on Sunday touted the legislative compromise during an interview with Face the Nation host John Dickerson.
"Pre-existing conditions are in the bill," Trump told Dickerson. "And I mandate it. I said, 'Has to be.'"
Looking for a win?
Political experts have speculated the GOP knows the bill won't pass the Senate, but the Trump administration may be looking for a legislative win after its earlier defeat in repealing the ACA. Meanwhile, Democratic leaders have questioned why Republicans proposed a law they know could harm Americans and is unlikely to reach the president's desk.
"Why would you risk a yes vote for a bill that is devastating to your constituents and has virtually a minuscule chance, virtually no chance of becoming law?" Senate Minority Leader Chuck Schumer (D-N.Y.) asked Wednesday, according to the Hill. "The reality is Trumpcare cannot pass the Senate."