'Red Dead Redemption 2' Soundtrack: Everything to know about the game's possible composer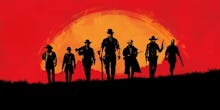 Red Dead Redemption 2 may have been officially announced, but we know next to nothing about the actual game or any of its potential features. But that doesn't keep us from guessing, and it looks like there's a sliver of information we might be able to ascertain about its musical properties. Nothing is guaranteed just yet, but this is a fun piece of speculation to keep the hype machine rolling. 
Red Dead Redemption 2 Soundtrack: Composer Gustavo Santaolalla could be contributing tunes
According to GameRant, award-winning composer Gustavo Santaolalla could be working on Rockstar's latest addition to the Red Dead franchise, if one fan's hunch is correct. If you've played The Last of Us, you've probably already heard Santaolalla's work, which will be featured next in The Last of Us Part 2. 
NeoGAF member Simo pointed out a certain track named "Apertura," which Santaolalla composed for the 2004 film The Motorcycle Diaries, sounds a lot like the music in the Red Dead Redemption 2 announcement trailer. For the sake of comparison, take a listen to the original "Apertura" below. 
The music in Red Dead Redemption 2 trailer is certainly similar to Santaolalla's "Aperturu," but this really isn't much to go on, especially since a composer is unlikely to write the same piece of music for two separate games. 
It's an interesting idea, but like most rumors, it's best to take this one with a grain of salt. We'll have to wait until Rockstar Games sees fit to share minutia like who's providing the game's music or what kind of influences the soundtrack may have. Additional details are expected soon, so we'll be waiting patiently to find out more.
Red Dead Redemption 2 will be released on PS4 and Xbox One in 2017.
More gaming news, updates, tips and tricks
Check out the latest from Mic, including our deep dive into how female Overwatch players are dealing with online harassment, an article about a fan movement advocating for more same-sex romance options in Mass Effect, a personal essay about JonTron written by a fellow Iranian-American and an article looking at cultural diversity in Overwatch.