This college invented a futuristic solution to keep low-income students enrolled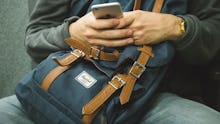 If we're going to invent robots to greet us at airports or welcome us into stores, we may as well also invent them for the social good of getting low-income students to college.
In the United States, a strikingly large number of high school graduates never show up for college in the fall, even though they meant to. Confusion about on-campus housing, financial aid or required paperwork can leave many students at a loss for what to do, especially if they worry about money or are the first in their family to pursue a degree. But after deploying an artificial intelligence chatbot to help students stick with the plan, Georgia State University started seeing some positive results — especially for its low-income enrollees.
By 2015, nearly 19% of new GSU students weren't coming to class in the fall. But that number is surprisingly low considering a 2013 study suggests that, on a national scale, up to 40% of students who say they plan to attend college in the fall don't show up. The phenomenon, called "the summer melt," likely means that students aren't getting the support they need.
But Pounce, a texting chatbot developed by AdmitHub in Boston and named after the university's mascot, did what it could to ease students' worries. It's somewhat reminiscent of ChaCha, which answered our random text-message questions from 2006 to 2016 — except Pounce uses AI to help students navigate bureaucratic college regulations, learning quickly from what people ask. Pounce started with a knowledge base of about 250 answers to questions, but eventually learned how to match more than 1,500 answers to more than 30,000 inquiries, according to AdmitHub's co-founder and CEO, 34-year-old Drew Magliozzi.
"Students get an instantaneous response in seconds," Magliozzi said in an interview. "We make it so that you don't have to be guilty spending 45 minutes on the phone with a student who really needs your help."
A case study suggests that Pounce's answers to questions about orientation dates, transcripts, housing and FAFSA ultimately reduced summer melt by more than 21% for GSU's fall 2016 freshman class. Some used it more than others: First-generation college students sent about 9% more messages to Pounce than other students, while Pell Grant-eligible students sent nearly 32% more than others.
And though most universities have yet to adopt a similar strategy, it seems that a personable AI chatbot could take thousands of students off hold and get them answers more quickly than — dare we say it — humans.
"The job we're replacing is one that is simply not being done, you know?" Magliozzi said. "No one in this industry is capable of having these conversations at [this] scale."