Health Care Bill: Doctors sound off on Twitter, call Obamacare replacement a "disgrace"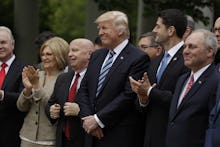 On Thursday, House Republicans managed to narrowly pass the American Health Care Act, the bill meant to replace the Affordable Care Act. Zero Democrats voted for the bill. 
The bill will now head to the Senate, where it will likely go through a plethora of changes before it is voted on. One major hurdle the legislation will have to overcome will be a report from the nonpartisan Congressional Budget Office, which is a requirement before the bill heads to a vote. The report will determine both the human and financial cost of the AHCA. In January, the Congressional Budget Office's report said the AHCA would leave as many as 32 million people uninsured and double premiums by 2026.
The Senate isn't expected to vote on the bill before June 2017, but that didn't stop people from sharing their feelings about the bill on social media, including doctors who will be greatly affected by the health care changes. On Thursday, the American Medical Association released a statement saying it strongly opposes the bill's passage. Andrew W. Gurman, M.D., the association's president, said in a press release: 
"The bill passed by the House today will result in millions of Americans losing access to quality, affordable health insurance and those with pre-existing health conditions face the possibility of going back to the time when insurers could charge them premiums that made access to coverage out of the question. Action is needed, however, to improve the current health care insurance system. The AMA urges the Senate and the administration to work with physician, patient, hospital and other provider groups to craft bipartisan solutions so all American families can access affordable and meaningful coverage, while preserving the safety net for vulnerable populations."
Doctors also bombarded social media with their thoughts on the new bill, using phrases like "un-American" and a "disgrace." Check out a few of the reactions from the medical community below.