'StarCraft' Source Code: What an honest gamer got for returning a gold master disc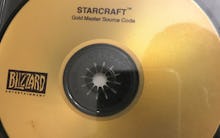 If you stumbled upon a gold master source code disc, what would you do? What about one belonging to Blizzard, containing the important code from StarCraft? If you're like Reddit user Khemist49, you send it back to Blizzard so it can find a loving home, and then you're rewarded handsomely. 
This very thing actually happened, as relayed via Kotaku. And Blizzard's response is one of the best that particular Redditor could have hoped for. 
StarCraft Master Source Code: A lucky find
Khemist49 had originally bought a "box of Blizzard stuff" via eBay, which he likely assumed was normal bric-a-brac associated with the brand. Instead, he was met with a curious disc: a regular, gold-colored CD-R with the words "StarCraft Gold Master Source Code" emblazoned on the front. This sent off warning bells for Khemist49, who posted about the curio on Reddit after making the find.  
Eager fans goaded Khemist49 to rip the contents of the CD and make them publicly available. They weren't happy that Khemist49's first move wasn't to post the possible secretive information proprietary to Blizzard online. 
After spending a few days deciding what to do next, Khemist49 was contacted by Blizzard's legal team. He was asked to return the disc with the advisement that it contained "intellectual property and trade secrets." 
This kind of demand could send shivers down any Blizzard fan's spine, so Khemist49 decided to send the disc back. He was thanked with a copy of Overwatch and $250 in Blizzard store credit, which he wrote off as the end of the interaction. 
StarCraft Master Source Code: Blizzard's bounty
The free games from Blizzard were only the beginning. Khemist49 received a phone call from a Blizzard employee with some great news. As it turned out, said employee wanted to invite him on an all-expenses-paid trip to BlizzCon, where the team would take him out for drinks. He also received a box chock-full of Blizzard goodies for his trouble.
When speaking with Kotaku, who reached out to confirm that the story was indeed true, Blizzard stated that on behalf of the company, they wanted to "show an appropriate level of appreciation to the player for doing the right thing." It seems like they certainly accomplished that, with a very happy and appreciative fan and an equally happy and appreciative Blizzard staff.
Stay honest, because you never know how things are going to work out for you!
More gaming news, updates, tips and tricks
Check out the latest from Mic, including our deep dive into how female Overwatch players are dealing with online harassment, an article about a fan movement advocating for more same-sex romance options in Mass Effect, a personal essay about JonTron written by a fellow Iranian-American and an article looking at cultural diversity in Overwatch.