Democrats' trust in the government just hit a historic low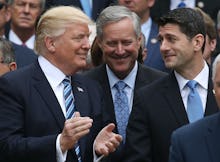 It's been a rough few months for Democrats in America. Not only did their party lose the presidential election, but they also had to watch President Donald Trump decimate some of President Barack Obama's legacy legislation. And to add insult to injury, House Republicans managed to pass a bill aimed at replacing the Affordable Care Act on Thursday.
So it's no real surprise that a new Pew Research poll found that just 15% of Democrats trust the government in Washington to do the right thing always or most of the time.
"The share of Democrats expressing trust in government is among the lowest levels for members of the party dating back nearly six decades," Pew said in a post on its site that announced the findings.
The national survey was conducted April 5 to 11 and included 1,501 adults. In total, the overall level of trust in government, Pew said, remains at near historic lows. "Just 20% say they trust the government to do what's right always or most of the time. Far more say they trust the government only some of the time (68%); 11% volunteer that they never trust the government to do what's right."
This poll marked the first time since George W. Bush's presidency that Republicans were more likely to say they trust the government in Washington than Democrats, with 28% of Republicans saying they trust the government at least most of the time.
Beyond trust, the poll also showed that U.S. citizens are incredibly frustrated with the government. "A majority of Americans say frustration (55%) best describes their feeling toward the federal government, while about two in 10 say they are angry (22%); a similar share (19%) say they are basically content," Pew reported. This frustration is really nothing new, though — poll numbers in March 2016 presented nearly identical results.
As Pew's poll showed, there is one thing people on both sides of the political aisle can agree on: the future.
According to Pew, 41% of respondents said they have quite a lot of confidence in the future of the country, while 30% said they have some confidence. Sure, nearly one-third of the respondents said they have no confidence in our future, but we'll choose to see the glass half full with the other 71%.