Hillary Clinton will launch a PAC to fund the resistance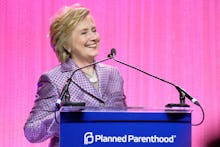 Hillary Clinton is done hiding in the woods.
The onetime presidential hopeful appears to be over her self-imposed exile, making the rounds this week at various female-focused events, including her conversation with CNN's Christiane Amanpour at a Women for Women event Tuesday. 
"If the election had been on October 27, I would be your president," she said to Amanpour and later to the audience at Planned Parenthood's 100-year anniversary gala, where she was honored with the organization's "Champion of the Century" award.
Now Clinton is gearing up for something even bigger: building a new political-action committee to fund the resistance and assist 2018 congressional candidates.
According to sources who spoke with Politico, Clinton has been meeting with donors in Washington, New York City and Chappaqua, New York, to help fund her new PAC called Onward Together.  
Clinton has reportedly brought on Dennis Cheng, her campaign's finance director, to find donors, and Judith McHale, who served as an undersecretary of state, to pinpoint which action groups to fund with said donations, according to Politico. And while the launch date for Onward Together is still unclear, several top colleges have reportedly reached out to Clinton already about becoming a venue for the PAC's work, CNN reported.
Axios, the first to report on the PAC, said that while Clinton isn't exactly looking for a way to comment on Trump's policies with Onward Together, she won't be shying away from it either. "An unwritten rule around her office has been to allow for a peaceful transition of power (evidenced by her attending inauguration), but to not stand by when POTUS is doing things she sees as counter to her core values. That has been reflected in her Twitter and public remarks."
Clinton has most certainly not been a shrinking violet about her feelings toward some of Trump's policies and outright told Amanpour during their conversation this: "I am now back to being an activist citizen and part of the resistance."