Delta Air Lines: The company is apologizing today for kicking a family off its flight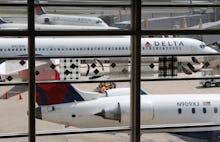 Delta Air Lines has apologized for kicking a family with two small children off an overbooked flight.
Father of three Brian Schear told ABC News he had to pay an additional $2,000 to fly his wife, Brittany, and their 1- and 2-year-old toddlers home a day after the family was booted off an April 23 Delta flight. 
Delta staff made the family leave the plane after Brian Schear refused to give up one of the seats he had purchased for his family. The Schears uploaded a video of the incident to YouTube on May 3.
Schear said he had bought a seat for his teenage son, Mason, who had gone home early, so the dad decided to put one of the family's car seats in Mason's seat and let one of his toddlers sit there.
Schear said Delta had overbooked the flight and wanted the family to give up their child's seat for another passenger. When Schear refused, the flight staff and a law enforcement official eventually asked his family to get off the plane, threatening them with federal charges.
"I told you guys at the beginning that you had two options and now it's gone too far," a flight attendant is heard saying in the video he uploaded.
"So what are we supposed to do?" Brian Schear asked.
"Sir, you should have thought about that in the beginning," the flight attendant responded.
The video has been viewed more than 3 million times.
On Thursday, Delta apologized for what happened and said it has contacted the Schear family to discuss compensation, Reuters reported.
"Delta's goal is to always work with customers in an attempt to find solutions to their travel issues," the company said in a statement released Thursday, according to Reuters. "That did not happen in this case and we apologize."
But the Schear family said they don't want money — they want answers.
"The whole idea of a customer has been somehow lost now," Schear said in a video broadcast on ABC.
"As a mother, and you have a 1-year-old and a 2-year-old, it doesn't matter whether it's true or false. That just — it put fear in me," Brittany Schear added.
Delta's history of incidents
In December, police dragged biomedical engineering professor Rhima Coleman off a Delta flight at Detroit Metro Airport after she refused to check her bag and leave the plane when asked, according to a local CBS affiliate.
In October, a Houston doctor named Tamika Cross, who is black, said on Facebook that a Delta flight attendant refused to let her aid a medically-distressed passenger because the flight attendant didn't believe Cross was a doctor.
Her story went viral and she eventually visited with Delta CEO Ed Bastian, according to Delta's website.
"At the core of our culture is a commitment to continuous improvement," Delta senior vice president of in-flight service Allison Ausband wrote in a company blog post about the incident. "When situations like the one described by Dr. Cross arise, we have a responsibility to our employees and our customers to review the circumstances and our policies for opportunities to listen, learn and improve."