'Thumper' Nintendo Switch: When the rhythm game will land on Nintendo's latest console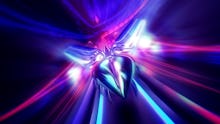 Thumper's unique brand of rhythm reflex-challenging gameplay originally debuted on PC, PlayStation 4, and PlayStation VR back in October 2016. It debuted to mostly positive critical reviews, and its "rhythm violence" tagline, coined by developer Drool, has likely turned on several new players to the surreal arcade-like experience.
Now it's setting down on Nintendo Switch, as Drool previously announced, but with a concrete date in mind this time around. 
Thumper Nintendo Switch: Release date
You can also nab it right now for PlayStation VR or Steam via Oculus support, depending on your choice of platform, if you're itching to try it in VR.
As you zoom down the track as a "beetle" with various powers, obstacles come flying at you left and right. You have to rely on your instincts to make it through unscathed, and it's an incredibly blood-pumping experience to take in, especially in VR.
Thumper will be dropping on Nintendo Switch on May 18, so if you've been waiting to see what all the fuss is about, you only have a couple more weeks to stew over the fact that the game isn't already available. 
Unfortunately, there's no update just yet on the previously-announced Xbox One version. 
More gaming news, updates, tips and tricks
Check out the latest from Mic, including our deep dive into how female Overwatch players are dealing with online harassment, an article about a fan movement advocating for more same-sex romance options in Mass Effect, a personal essay about JonTron written by a fellow Iranian-American and an article looking at cultural diversity in Overwatch.