Edward Crawford, Ferguson protest hero, found dead of a self-inflicted gunshot wound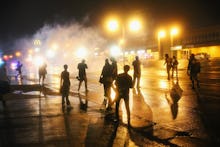 Edward Crawford, the man many considered a hero of the Ferguson Uprising after he was photographed throwing a tear gas canister away from protesters, was found dead of self-inflicted gunshot wound early Friday.
According to the St. Louis Post-Dispatch, Crawford, 27, was confirmed dead by his father and mother, who identified his body at a morgue on Friday. St. Louis police said Crawford had been complaining of distress to two women seated in the car, where he suddenly shot himself.
As word spread of his death, those involved in protests sparked by the 2014 Ferguson police shooting death of Michael Brown remembered Crawford for the role his iconic newspaper photo played in shaping the global perception about the crackdown on demonstrators.
"Edward was a hero," Brittany Packnett, a prominent voice and activist in the Black Lives Matter movement, tweeted on Friday. "He threw burning tear gas away from children."
DeRay Mckesson, another prominent voice of the movement, along with other activists and local officials, also tweeted remembrances.
Crawford, a father of four, has said he had been trying to protect children caught in the middle of aggressive police crackdowns on protesters. Police fired rubber bullets, deployed flash bang grenades and threw tear gas almost indiscriminately at BLM demonstrators, during protests that followed the non-indictment of former Ferguson, Missouri, police officer Darren Wilson.
For his act, Crawford was ticketed under two St. Louis County ordinances for interfering with a police officer and assault, the Post-Dispatch reported. "I didn't throw a burning can back at police," Crawford said in an interview with the newspaper in 2015. "I threw it out of the way of children."
Crawford's death came as a shock to his father, Edward Crawford Sr., who told the Post-Dispatch that he'd seen his son in good spirits two days before the shooting. "He was wonderful, great, always in a good mood," the elder Crawford said. "He just got a new apartment and was training for a new job."