Cheap is delicious: How to spend just $5 a day on food, save money and enjoy what you eat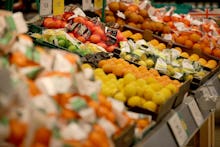 If you think limiting yourself to only $5 a day on food means a steady diet of ramen and Taco Bell, think again. Using technology and a little ingenuity, you can not only survive — but thrive — on a $5 daily food budget. 
It's not impossible: The average American household spends a little more than $19 a day on food (a little more than $7 per person), according to 2015 data from the Bureau of Labor Statistics. Fifty-seven percent of the average food budget is dedicated to eating at home and 43% to eating away from home.
While it may seem difficult to imagine dropping your daily food budget down to $5 a day without eating low-quality nosh, there are tricks to making it work and actually enjoying it. Remember, if you keep flavorful, long-lifespan bulk ingredients around — think staples like olive oil, chili flakes, garlic, vinegar, nuts or seeds, mustard, onion and parmesan cheese — cheap can also be delicious. And if you can stick to it, you could save $5,000 or more a year as a result.
Here's a sample meal plan that totals just $5 for a single day:
Breakfast: Start the day with two eggs for about 40 cents — adding just a little hot sauce or sriracha for flavor — or opt for one 6-ounce cup of yogurt for about $1, paired with a banana for about 36 cents.
Lunch: For lunch, combine a 5-ounce can of tuna for about $1.50 with 3 ounces of mayonnaise for 42 cents. Pile high on two slices of whole wheat bread for about 20 cents. Add a dash of salt, black pepper and a few pennies' worth of the lemon juice you already have at home, and it'll be a tasty and satisfying meal. Vegetarians might try a peanut butter sandwich, using two tablespoons of peanut butter for about 17 cents on the same bread and throwing in an apple for 32 cents.
Dinner: Have a healthy dinner with a chicken breast for 75 cents, along with a quarter cup of brown rice for 18 cents and a half cup of broccoli for 50 cents. If you're vegetarian, opt for a half cup of cooked lentils for 12 cents, along with one chopped beet for 35 cents and a cup of kale for 50 cents. Cook in canola oil for a few pennies or olive oil for extra flavor. To up deliciousness, consider grating parmesan on top and adding a sprinkling of toasted sunflower seeds.
Think you'd get sick of that meal plan every day of the week? You'd be surprised by the variety you can create following just a few rules of thumb. Below are five steps that will help you eat delicious, healthy foods on the slimmest of budgets.
1. Be a planner
There's nothing more powerful than planning ahead, because if you know what you plan to eat, it can help reduce impulse purchases and remove the guesswork from shopping. First, take inventory of the food currently stocked in your pantry, refrigerator and freezer, Annette Economides, coauthor of Cut Your Grocery Bill in Half With America's Cheapest Family, told Time. Knowing what you currently have will reduce duplicate purchases or buying food that won't fit into your $5 daily budget. 
Also, create a sample menu for the week and price out each meal. Consider buying in bulk, such as purchasing a large whole chicken you can roast at home and then use for several meals throughout the week. Easy meal prep can be found here or you can do a search on Pinterest or Instagram using the hashtag #$5 meals for inspiration. 
2. Know prices — and price hacks
Luckily for you, the age of technology makes being price-savvy a snap. Some apps allow you to do price comparison based on store or product and some even give you cash back. For example, apps like Ibotta and Checkout 51 allow you to scan for deals, plus both offer a cool cashback feature. You can base your meals on deals or look for the best price from your grocery list. 
"Even for already on-sale items at your grocer, shopping apps like Ibotta provide additional cash back on even the most standard purchases to help shoppers on a shoestring budget," Bryan Leach, Ibotta's CEO said to Mic by email.  
Also, apps like Flipp can help you find low-cost food at a lower price. "When you put an item on Flipp's shopping list, the app automatically shows you all of the specials on that item in your local weekly ads so you can always shop where these items are cheapest," Lisa Lee Freeman, Flipp savings expert said to Mic by email.  
Another strategy to save on groceries is to purchase produce in season or go for frozen if out of season. You still retain the same nutritional value with frozen — without having to worry about waste. 
3. Use coupons like a boss
Coupons can be your best friend when you need to save money. No one knows this more than Christy Rakoczy, in-house coupon expert and writer at Mic. Coupons helped Rakoczy saved hundreds of dollars when she was in law school and she provided some little known secrets on how to maximize your couponing power. Her tips are here.
Some insightful advice includes scanning sites like Slickdeals and Deal Seeking Mom to see what's on sale, using coupons from the newspaper through The Coupon Clippers and combining coupons with store promotions.
Other coupon apps to check out are Coupons, Honey and Ebates.  
4. Maximize your once weekly grocery visit
Some people save money and avoid impulse purchases by shopping only once a week, as Forbes points out. So consider making a date to shop on the same time and day each week so it becomes part of your routine. Choose items that can be cooked many times over the course of a week, such as dried beans, rice, oatmeal and large bags of frozen vegetables.
"Foods like oatmeal and eggs are great for lunches because you can prepare them on Sundays and eat them all week long," Freeman said. Consider portioning oatmeal into smaller servings for about 25 cents per serving. Hard boil seven eggs ahead of time and you have a snack for about a dime each if you purchase them on sale. Refrigerate the eggs still in their shell so they stay fresh. 
Also, never grocery shop when you are hungry because you are less likely to make healthy, frugal choices on an empty stomach, as Reuters reports. 
5. Reduce waste
In 2014 alone, Americans disposed of 38 million tons of food, according to the Environmental Protection Agency. You can reduce waste by being attentive to expiration dates before you buy, using proper storage and freezing food you can't eat quickly enough, the EPA says. Also, repurpose leftovers into additional meals, using sites like All Recipes to search for ideas.
One tip? Instead of purchasing stock for soups, use leftover vegetables or even chicken bones to make your own. (Lobster shells make for amazing stock). You can also make the most out of your vegetables by shredding and cooking broccoli stems, for example.  
Sign up for The Payoff — your weekly crash course on how to live your best financial life. Additionally, for all your burning money questions, check out Mic's credit, savings, career, investing and health care hubs for more information — that pays off.