War in Syria: Russia just told the U.S. not to fly planes over Syria safe zones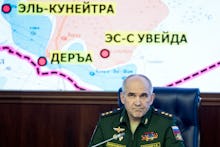 Russian officials on Friday warned U.S. military officials they can no longer fly aircraft over newly established safe zones in Syria.
Alexander Lavrentiev, Russian President Vladimir Putin's special Syrian envoy, told reporters Friday that U.S. aircrafts will not be permitted to fly over the safe zones established Thursday by Russia, Iran and Turkey, according to the Wall Street Journal.
The safe zone ban also bars U.S. planes operating in the U.S.-led international coalition fighting ISIS.
"From this time forward, these zones are closed for their flights ... with or without notification," Lavrentiev said, according to Russian newswires quoted in the WSJ.
Russia, Iran and Turkey signed the safe zone agreement on Thursday, saying the point is to cease fighting and establish an "uninterrupted flow" of emergency and humanitarian aid to the areas outlined, according to the WSJ.
The safe zone agreement has not been signed by Syrian government officials or the rebel forces fighting them.
CNN reported Syria has violated cease fire agreements in the past, most recently in December.
The Trump administration has not yet responded to Russia's decree, but the WSJ reported U.S. State Department officials expressed skepticism on Thursday about Iran's involvement in the safe zone agreement.
"We continue to have concerns about the ... involvement of Iran as a so-called guarantor," State Department spokeswoman Heather Nauert told the WSJ Thursday. "Iran's activities in Syria have only contributed to the violence, not stopped it, and Iran's unquestioning support for the Assad regime has perpetuated the misery of ordinary Syrians."
Tensions between Syria and the U.S. escalated after the United States launched missiles against a Syrian airbase on April 6 in retaliation for Syrian President Bashar al-Assad's use of Sarin gas against his own people on April 4.
In response to the U.S. missile strike, Russia, Assad's big brother ally, sent warships to the region, raising concerns of escalating tensions between the two world powers.