'Prey' Guide and Walkthrough: Tips and strategies to survive Talos I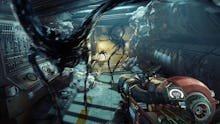 This guide covers Prey by Arkane Studios and Bethesda Softworks, which has you controlling scientist Morgan Yu in an alternate future. In the Prey universe, the U.S. drastically expands its presence in space compared to our reality, which ends up drawing the attention of a hostile alien faction called the Typhon, which are eventually contained in the space station Talos I — at least until the start of the game. 
Our hug will aid you in your journey through the space station, which is no longer under the control of humanity. This article will contain all our Prey guide content and will be updated frequently, so check back often.
Prey tips and strategies
In Prey, you get to tackle the challenges Talos I offers in the order of your choosing. Each area offers its own set of mysteries and problems to solve, but there are some tips and strategies that are applicable throughout the game. Below is some basic advice that will help get you started in your fight against the Typhon.
• Ammunition, weapons and other helpful items can be scarce in certain areas of 'Prey'. To offset this, you can recycle the various junk items you find around 'Talos I' and use the recycled material to craft useful items. This means you should pretty much pick up everything you come across so you can get as much crafting material as possible.• Make sure you visit a recycler often. One of the easier ones to get to is the one in Morgan Yu's Office. Your inventory is limited, so if you don't want to get stuck having to throw away items that could have been turned into valuable crafting materials, you need to make sure you make regular trips to go break them down.• Read everything. 'Prey' is full of emails, voice recordings, notes and books that you can find during your journey. Not only do these materials often provide essential keycodes and passwords to proceed further in the game or open hidden caches of useful items, but they also fill in the backstory of what happened before you awakened on Talos I.• Stealth is key to surviving in 'Prey', especially at higher difficulties. While you will get an array of weapons, upgrades and powers that will help you combat the Typhon, even the forms you encounter early in the game are powerful. By crouching and moving slowly and carefully, you can loop around Typhon a lot of the time and avoid entering combat. Additionally, if you're able to sneak up on an enemy, you can get a bonus to your attack if you hit them without being noticed.
The guides below cover aspects of Prey in more detail and contain more in-depth tips and strategies.
Prey guides
Each Prey guide below will help you past roadblocks in your adventure through and show you the items you need to survive in Prey.
How to find all safe locations and keycodes
Safes contain valuable items to help you on your journey. This guide shows how to locate and unlock each of them.
Where to find all workstation passcodes
The employee workstations scattered around Talos I contain information that is imperative to understanding and completing Prey. We show you where to find the passwords you need to access them.
This guide will show you where every card needed to unlock a door is in Prey.
Where to get all Fabricator Plans
Crafting items is the only way to make sure you have enough Neuromods and ammo to stave off the toughest Typhon. We show you were you can get the plans you need to make each item.
How to get all Trophies/Achievements
This guide will show you how to get every trophy and achievement across each platform.
How to find the Cosmonaut Shotgun Pack pre-order bonus
Those that pre-ordered Prey get a little extra something that will make life a bit easier as they make it through Talos I. This Prey guide will show you how to find the pre-order DLC.
Prey side quests
Find Grant Lockwood outside Talos I
You have to track down every single TranStar employee, alive or dead to get one of Prey's achievements. This guide tell's you where one of the more elusive ones is.
How to fix the Water Pressure Regulator
Fixing the water pressure regulator is one of the pre-requisites for the "Kill the Cook" quest. We show you the two ways you can accomplish this task.
Complete the "Kill the Cook" side quest
One of the members of the Talos I crew isn't who they appear to be. Use this guide to track down and kill the imposter cook before they can kill you.
One of the endings requires you to incapacitate Dahl and escape with him in the shuttle. Here's how to do it.
How to get the Artemis Pistol Golden Gun
You can be the man (or woman) with the golden gun if you complete this side quest in Prey.
We show you what happens when you get the side quest to save Luthor Glass in the Trauma Center.
Prey articles
How long does it take to beat Prey?
We show you how long, on average, it takes to complete the story of Prey.
Prey has an number of endings, and not all of them are happy. We explain each ending in this article.
If you haven't got a chance to pick up the full-version yet, this article will show you all the cool secrets located in the demo.
Prey PC system requirements
Prey is a bit demanding, and if you haven't updated your PC in a few years, you may not get the fidelity you want. Make sure your system meets the requirements below before you purchase the Steam version.
Minimum PC Requirements:
OS: Windows 7/8/10 (64-bit versions)Processor: Intel i5-2400, AMD FX-8320Memory: 8 GB RAMGraphics: GTX 660 2GB, AMD Radeon 7850 2GBStorage: 20 GB available space
OS: Windows 7/8/10 (64-bit versions)Processor: Intel i7-2600K, AMD FX-8350Memory: 16 GB RAMGraphics: GTX 970 4GB, AMD R9 290 4GBStorage: 20 GB available space
More Prey news, updates, tips and tricks
For more on Prey, check out the rest of what Mic has to offer. Here's a guide to find all the safe locations and keycodes, and here's one showing where to find the pre-order bonus. Here how long it takes to beat Prey, and some of the secrets you can find in the demo. Finally, here's our guide hub where you can find all our Prey content.