'MLB The Show 17' Roster: Top 25-rated players, 25 years old or younger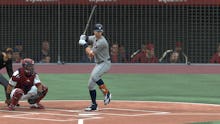 Whether you're starting a MLB The Show 17 franchise mode with a fantasy draft or conventional, you should be eyeing young talent. Young players who already have high ratings are the most coveted in the league. These players can help your team win now and should be around long enough to provide production after multiple seasons.
We used the handy in-game player search machine and filter to find the top-25 (really there's 28) rated players who are 25 years old or younger.
Here's the list:
Mike Trout, 25 years old, 99 overall, CF - Los Angeles Angels
MLB The Show 17 Roster: The Best
Mike Trout isn't just the best under 25 in MLB The Show 17, he is the only active player rated a 99 overall.
Trout is the definition of a five-tool player and the people in charge of ratings at Sony San Diego Studios recognize.
Trout has a speed rating of 84, his power ratings for left and right-handed pitchers is 87 and 90, respectively. He has a 75 arm strength and 80 arm accuracy rating along with a 90 fielding and 87 and 94 contact ratings against righties and lefties, respectively.
Translation: He can do it all. 
If you're doing a fantasy draft, Trout should be your No. 1 overall pick.
MLB The Show 17 Roster: Young Nationals Sluggers
The only team with two players in the Top 10 is the Washington Nationals. In addition to 2014 National League MVP Bryce Harper who is tied for 7th on the list, the Nats also have 23-year-old shortstop Trea Turner.
Those are two attractive building blocks if you're interested in controlling the Nats.
The team has some nice young starting pitching as well. Joe Ross is 23 years old and he's rated an 82 overall.
The Chicago Cubs have young talent and they are the defending World Series champions, but the Nationals might have the most appealing core of young talent in the NL.
MLB The Show 17 Roster: Arms up North
The Toronto Blue Jays need to get younger when it comes to their position players, but they have two promising young starter pitchers to build around.
Neither Aaron Sanchez and Marcus Stroman are rated 90 overall, but because both are so young, the arrow is pointing up for them.
Even if you're doing a fantasy draft, targeting young, quality arms like Sanchez and Stroman is a good strategy for building a winner.
More sports gaming news and updates
Love sports games? Check out more content from Mic, including tips for leveling up your NBA 2K17 MyPlayer, playing quarterback in Madden 17, our review of MLB The Show 17 and the classic Nintendo sports games we want to see on the Switch.