'Smite' Bob Ross: How to get the docile painter in this MOBA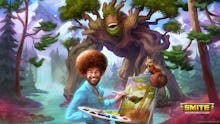 Bob Ross is one of the happiest painters of all time, and listening to his voice when you want to relax is like music to your ears. The host of the classic PBS art show The Joy of Painting is about to be immortalized in Hi-Rez Studios' MOBA called Smite as early as next week, and we're having trouble keeping mellow like Cadmium Yellow because of this awesome news. 
Bob Ross Smite: Bob's abilities and attacks
Bob Ross won't be his own character in Smite, but he will be available as a skin for the character Sylvanus, which will totally transform Sylvanus into the legendary painter. He'll be packing a brush, easel, and art palette. Sylvanus' treant he normally uses to ride during Smite matches will get a giant smile and green beard to fit the theme.
Sylvanus' attacks will reflect Bob Ross's peculiarities as well, with the ability to throw paint, set off smiling clouds and summon happy little trees. 
Bob Ross Smite: How to get Bob Ross in Smite
You can pick up the Bob Ross skin for Sylvanus as of May 9 for PC players and May 16 for console players. The Bob Ross Bundle will include a new jump stamp, exclusive loading frame, loading screen background and all the changes detailed above with Bob Ross costuming and attacks. 
It will run you $9.99 or 700 gems in-game, but that's a small price to pay for one of the best artists to ever have a TV show. 
More gaming news, updates, tips and tricks
Check out the latest from Mic, including our deep dive into how female Overwatch players are dealing with online harassment, an article about a fan movement advocating for more same-sex romance options in Mass Effect, a personal essay about JonTron written by a fellow Iranian-American and an article looking at cultural diversity in Overwatch.