The Bresha Meadows case reveals what black domestic violence survivors are up against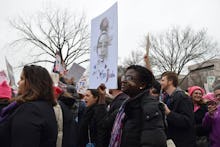 Bresha Meadows is a hero, according to her mother.
But for nearly a year, the 15-year-old from Ohio has been sitting in a jail cell charged with aggravated murder for the July 2016 death of her 41-year-old father, Jonathan Meadows. On Friday, a judge in Ohio's Trumbull County Family Court ruled that Meadows is to remain jailed until her trial, which starts on May 22.
Meadows alleges that she, her mother and her two older siblings survived years of physical and mental abuse from her father. On July 28, 2016, Meadows, who was then only 14 years old, shot and killed her father with his own gun. In the months before the shooting, Meadows had run away from home and told relatives that she feared her father would one day kill her.
Brandi Meadows, Bresha's mother, told reporters that her daughter struggled increasingly with the abuse as she got older. "I watched my child deteriorate," Meadows told the Cleveland Plain-Dealer. "She went from being OK to nothing." She added that Jonathan Meadows "terrorized us."
Ian Friedman, Meadows' attorney, told the court that the teenager suffers from post-traumatic stress disorder, depression and anxiety and that her imprisonment has only exacerbated her mental health challenges because she's not getting the care that she needs. At one point during her incarceration, Meadows was on suicide watch.
Meadows' case has drawn nationwide attention. The hashtag #FreeBresha has, at times, trended on social media. Her supporters argue that she's an example of the high and often unreported rates of domestic violence that black women and girls endure. Reports in Salon, HuffPost and the Root have compared Meadows' case to that of Marissa Alexander, the black woman in Florida who spent more nearly three years in prison for firing a warning shot in the direction of her abusive husband. In 2016, supporters held rallies in several cities to bring attention to Meadows' case. Thousands of people have raised more than $100,000 via GoFundMe to help support her legal defense. 
The Free Bresha Meadows Campaign popped up in the fall of 2016 to draw attention to Meadows' case — and why it's not unique. "Like Bresha, an estimated 15.5 million children in the U.S. are exposed to domestic violence each year," supporters wrote in a statement, adding that "84% of girls incarcerated in the U.S. experience family-based violence prior to being criminalized."
Meadows' biggest supporter is her mother, Brandi Meadows.
"She is my hero," Meadows told local reporters less than a month after the shooting. "She helped me; she helped all of us so we could have a better life."