White House parts with its first female chief usher, Angella Reid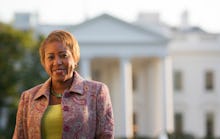 After six years working as the White House chief usher, Angella Reid — the first woman to serve in the position — is out of a job.
"We left on very good terms and wish her the best and certainly hope for great things for her in the future," deputy press secretary Sarah Huckabee Sanders said during Friday's press briefing, CNN reported. 
While Sanders gave no official reason for the departure, she explained that "it's not uncommon that you might have a transition when a new administration comes in and it's simply nothing more than that."
But Stephen Rochon, who was the chief usher from 2007 to 2011, told CNN it's highly unusual for the permanent staff to turn over so quickly. 
"It really doesn't matter who is president, or what party is in office," Rochon said. "The permanent staff averages 25 years — one staffer was there for 50 years." 
In fact, only nine people have ever held the title of White House chief usher, NBC noted. Rochon additionally noted to CNN that the Trump team asked him to come back "to run the house," but he declined.
Reid joined the White House in 2011 under President Barack Obama, the Washington Post reported, becoming the first woman and only the second African-American to fill the role. Alyssa Mastromonaco, Obama's deputy chief of staff, shared her thoughts on the departure, tweeting, "This is really some shit. Please RT so people know who 45 thinks is disposable."
According to the White House Historical Association, the position's responsibilities include the oversight and management of the building and residence staff and "construction, maintenance, remodeling, food, as well as the administrative, fiscal and personnel functions."
When reached by telephone for a comment Reid simply told the Washington Post, "I think it's best if the White House explains."