Macron's French presidential campaign hit with "massive" email hack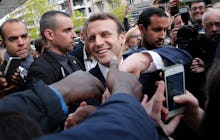 French presidential candidate Emmanuel Macron was the target of a "massive" coordinated email hacking operation, around 36 hours before voters head to the polls, Reuters reported.
On Friday, an estimated nine gigabytes of data from the Macron campaign were posted to the anonymous document sharing site Pastebin. The site has since removed the post, the Verge reported, although an archived version is still available. Macron's team told Reuters that fake and authentic documents were leaked together in an attempt distribute misinformation before the vote.
"The En Marche! Movement has been the victim of a massive and coordinated hack this evening which has given rise to the diffusion on social media of various internal information," a statement from the campaign said, according to Reuters. The files, according to an additional statement to BBC, were "obtained several weeks ago by hacking personal and professional email accounts of several officials of the movement."
The leak appeared to be perfectly timed to the mandated campaign blackout. As Mic previously reported, in accordance with French law, campaigning must come to a complete standstill at midnight on Friday to give voters a full day without the political madness.
However, Macron's campaign told Reuters it's not concerned with the public obtaining the documents as it merely shows routine operations, adding it won't "tolerate that the vital interests of democracy be put at risk."
As of Friday, the Telegraph's polling shows centrist Macron with a healthy lead over his far-right counterpart, Marine Le Pen. As the Telegraph noted, Macron will likely be able to win over a wider spectrum of voters, especially after he secured the backing of France's two main political parties after they both failed to make it on the final ballot.
French voters will head to the polls this Sunday for the final round of the presidential election. The final winner will likely be announced Sunday night.