7,000 bodies may be buried underneath the University of Mississippi Medical Center campus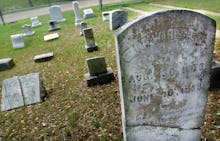 The University of Mississippi Medical Center is weighing what to do with an estimated 7,000 bodies recently discovered to be buried beneath its campus, remnants of the state's first mental institution built there back in 1855.
Underground radar showed there are thousands of coffins — presumably containing the bodies of former patients at the institution, dubbed the Insane Asylum — stretching across 20 acres of UMMC's campus, according to the Clarion-Ledger.
School officials estimated that the cost of exhuming and reburying the bodies elsewhere could reach $21 million.
UMMC officials are considering the less-expensive option of completing the exhumations in-house for roughly $400,000 annually for eight years, a price tag that includes the cost of creating a memorial, visitors' center and lab to study the remains.
Molly Zuckerman, associate professor in Mississippi State University's department of anthropology and Middle Eastern cultures, told reporters the anticipated lab would help researchers discover what asylum life was like in the 19th and early 20th centuries.
"It would make Mississippi a national center on historical records relating to health in the pre-modern period, particularly those being institutionalized," she said, according to the Clarion-Ledger.
Dr. Luke Lampton, chairman of the state Board of Health, said Mississippi's mentally ill were often chained up in jails and attics before the asylum opened in 1855 — but asylum life wasn't much better. Between 1855 and 1877, the asylum admitted 1,376 patients, and 1 in 5 of them died during that period.
At peak occupancy, the former asylum housed as many as 6,000 patients.
The state moved the mental hospital to its current location in Whitfield, Mississippi, in 1935. UMMC's construction began 20 years later.
School officials first discovered 66 bodies on the campus during road construction efforts back in 2013, the Clarion-Ledger reported. Underground radar found another 1,000 coffins a year later during construction of a parking garage near the campus dental school.