The Air Force just landed secret spacecraft X-37B. Here's what you're allowed to know.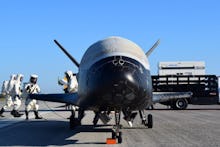 An unmanned space plane owned by the United States Air Force touched down in Florida on Sunday after two years of being in orbit — which would be an exciting feat for science or space exploration — except no one really knows why the spacecraft was sent out in the first place.
The spacecraft is called the X-37B, which is fancy name for a small plane with a 15-foot wingspan and an overall size that's about a quarter of NASA's retired space shuttles (bigger doesn't always mean better, to be fair). It landed with a "sonic boom" on Sunday morning, much to the delight of those living near the NASA Kennedy's Space Center.
Here's what we know
X-37B's landing marked the end of a 718-day mission, which is the longest one yet, after three previous landings at California's Vandenberg Air Force Base. X-37B is also known by the name Orbital Test Vehicle, and it first took flight in 2010 for eight months. In 2014, the U.S. Air Force moved the program to Florida.
The amount of time OTV spends in space has grown significantly. According to numbers reported by Space.com, the number of days X-37B stayed in orbit increased by more than three-fold from its initial test in 2010.
It's not a ton of information, but the Air Force might be keeping us in the dark to protect the intelligence-related hardware it could be testing on these experimental flights. Or, at least, that's the best guess that the Secure World Foundation — a nonprofit group promoting peaceful exploration of space — could give Reuters this month.  
Next time around, the Air Force hopes to launch its fifth experiment using X-37B from another location in Florida — the Cape Canaveral Air Force Station. We'll see how long that one stays in orbit, though that may not tell us much else.