Trump delays $1 billion arms deal with Taiwan over fears it will upset China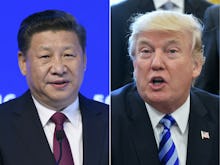 President Donald Trump and his administration will do just about anything to keep the Chinese government happy, including stall a $1 billion arms deal with Taiwan.
According to the Washington Post, the relatively small deal is all part of a policy set in 1979 stating that the U.S. will "provide Taiwan with arms of a defensive character," along with former President Ronald Reagan's 1982 "assurances," stating in part that the United States would not alter the terms of the deal, nor would it consult with China over any arms sales.
This particular $1 billion deal was struck during the previous administration, however, former President Barack Obama never put it in motion. Now, administration and congressional officials told the Washington Post that the arms deal is stalled partially over the fear that it will anger Chinese leadership just as Trump attempts to get China to take more control over the situation in North Korea.
"I think it's important we keep our commitments under the Taiwan Relations Act and under Ronald Reagan's 'Six Assurances,'" House Foreign Affairs Committee Chairman Edward Royce (R-Calif.) told the Washington Post. "This helps keep the peace and stability in the Taiwan Strait."
The arms deal wouldn't be the first time Trump's handling of Taiwan has ruffled feathers. In December, then-President-elect Trump spoke on the phone with Taiwanese President Tsai Ing-wen, marking the first time an American president or president-elect had spoken with a Taiwanese leader since 1979, as Mic previously reported. At the time, Trump remarked that he didn't feel "bound by a one-China policy unless we make a deal with China having to do with other things, including trade." Trump has since backpedaled that statement and reaffirmed his commitment to the policy.
However, as the Washington Post noted, the stalling tactic does not mean that the Taiwan deal is dead forever. In fact, because of the delay, Taiwan could possibly up getting the more advanced F-35 Joint Strike Fighter it has previously expressed interest in. On a more positive note for Trump, that deal, or any deal with Taiwan, would have strong political support in the U.S.
"I will strongly support any arms package the Trump administration will put forward for our friend and ally, Taiwan," Sen. Cory Gardner (R-Colo.), who chairs the Senate Foreign Relations subcommittee on East Asia, told the Washington Post.