Jimmy Kimmel "apologizes" to critics for saying kids should have health care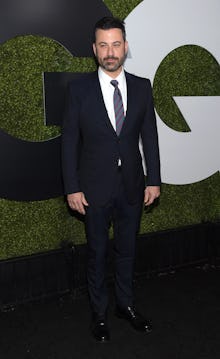 Jimmy Kimmel sounded off on conservative critics of his powerful plea to save the Affordable Care Act in his return to his show Monday night.
"I would like to apologize for saying that children in America should have health care," the host said on Jimmy Kimmel Live! "It was insensitive. It was offensive and I hope you can find it in your heart to forgive me."
Kimmel last Monday opened his show with an emotional monologue detailing the near-death of his son, Billy, who was recently born with a heart condition. After thanking the health care professionals and others who helped save his son and get his family through the difficult time, Kimmel talked about the importance of ensuring everyone has access to health care.
While Kimmel said on Monday that his remarks a week earlier had overwhelmingly been met with "so much kindness, so much compassion," there were some "not so nice" responses, too.
In response to conservatives in the media who labeled Kimmel an elitist, the comedian joked that it had been his dream "to become an out of touch Hollywood elitist, and I guess it came true."
The host also shut down former House Speaker Newt Gingrich, who on Fox News Sunday criticized Kimmel's views on health care — and his comedy. 
"There's a reason he was named after a lizard, and that was it," Kimmel said.
Kimmel also interviewed Republican Sen. Bill Cassidy, who said any health care law must pass the "Jimmy Kimmel test" — "Would a child born with congenital heart disease be able to get everything she or he would need in the first year of life?" Cassidy asked in an interview on CNN Friday.
In his appearance on Kimmel, Cassidy said that Republicans were trying to balance access to health care with the costs associated. 
"I am all about people having the insurance they need," Cassidy said. "But again, we have to be able to afford it both in our taxes and our personal expenses."
Cassidy attempted to suggest that Kimmel, whose comments defended the ACA against Republicans looking to repeal it, and President Donald Trump shared the same beliefs on health insurance, with Cassidy urging Americans to call on their senators to "fulfill President Trump's contract lowering premiums with coverage that passes the Jimmy Kimmel test."
As its namesake, though, Kimmel appeared to push back with his own suggestion for what the "Jimmy Kimmel test" should be.
"The Jimmy Kimmel test, I think, should be no family should be denied medical care, emergency or otherwise, because they can't afford it," Kimmel said. "Can that be the Jimmy Kimmel test?"