Arizona police arrest suspected "serial street shooter" they say killed 9 people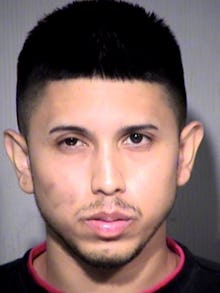 Police in Arizona say they've caught the notorious "serial street shooter" believed to have fatally shot at least nine people, mostly at random, during a 12-incident shooting spree that terrorized locals in Phoenix in 2015 and 2016.
The suspect, Aaron Juan Saucedo, 23, of Phoenix, Arizona, was arrested in April in connection with the August 2015 fatal shooting of his mother's boyfriend, Raul Romero, age 61, CBS News reported.
Four months later, authorities say Saucedo also randomly shot and killed 22-year-old Jesse Olivas while the victim was standing in front of his home on New Year's Day in 2016.
After that, police say Saucedo went on a random killing spree, fatally shooting seven others during the spring and summer of 2016, according to CBS.
On March 17, 2016, police say Saucedo shot a teenage boy in the arm. The teen survived the attack.
On April 1, 2016, 21-year-old Diego Verdugo-Sanchez was fatally shot outside his home in an apparent drive-by shooting.
Mother and caregiver Krystal Annette White was killed next on April 19, 2016. Then came the June 3 death of 32-year-old Horacio de Jesus Peña.
His death was followed by the June 12 triple homicide of Angela Linner, Stefanie Ellis and her 12-year-old daughter, Maleah Ellis, who were all fatally shot while listening to music in Stefanie's driveway, according to the Arizona Republic.
Saucedo's last suspected victim was Manny Castro Garcia, age 19, a recent high school grad who was shot and killed on June 10, the Arizona Republic reported.
Police believe Saucedo also tried to kill a 21-year-old man and his 4-year-old nephew on July 11, shooting at the random passengers as they sat in their vehicle, but the pair escaped the scene unharmed, according to CBS.
Saucedo was also initially suspected in a 2015 Phoenix-area freeway shooting spree before investigators in that case ultimately arrested another man whose case was eventually thrown out, CBS reported.
"It is true that we obtain evidence from the freeway shooter series to compare with our serial shooter series," Phoenix Police Chief Jeri Williams said during a Monday press conference about Saucedo's arrest. "The analysis of that evidence did not link these two series."
Saucedo has been charged with 26 felonies, including multiple counts of homicide, assault and drive-by shooting, CBS reported. Police haven't said what they think Saucedo's motive was in the killings or why the suspected killer stopped after the latest incident in July.
The suspected murder weapon in at least one of the shootings was a High-Point 9mm pistol, which police recovered from a local pawn shop, according to CBS.
"Our investigators are still researching new evidence and sharing their findings with other agencies to determine if there are other crimes and unsolved crimes related to this series," Chief Williams added. "We hope that our community will rest a little easier and our officers will get a little more sleep knowing that the wheels of justice are finally in motion."