Blue Lives Matter sign posted near the site where Michael Slager killed Walter Scott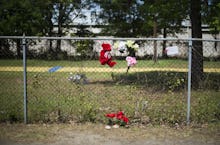 Nothing is sacred in North Charleston. Not even the site where former North Charleston police officer Michael Slager fatally shot unarmed black motorist Walter Scott is above racially insensitive displays.
According to the Charleston Post and Courier, a local supporter of law enforcement paid to have a "Blue Lives Matter" billboard displayed roughly a mile from where Scott was killed. The sign popped up on Friday, just days after Slager — who faced state murder charges for shooting Scott in the back on April 4, 2015 — pleaded guilty to a federal criminal civil rights charge.
"It's nothing negative against anybody," Scott Garland, a resident of West Ashley, South Carolina, told the Post and Courier. "It was intended as a show of support to the men and women in blue."
Garland created a GoFundMe.com campaign to fund the billboard, eventually raising $515 with individual donations as large as $300. The sign has offended members of the black community and supporters of the Black Lives Matter movement, to which the phrase "Blue Lives Matter" has increasingly become a racially divisive response.
"It's an insult to the whole Black Lives Matter movement," Devonte Holmes, a resident of North Charleston, told the Post and Courier. "And they did it on Remount Road where the police shot that man. That's disrespectful."
Mic could not immediately reach a representative of the Scott family for comment on Tuesday. Following Slager's guilty plea in a federal courthouse in Charleston — during which he also admitted to using unreasonable force, according to CNN — Judy Scott, Walter Scott's mother, told reporters she was satisfied Slager had accepted responsibility for taking her son's life.
In the wake of police shootings involving black victims across the nation in recent years, law enforcement supporters have used the "Blue Lives Matter" rallying cry to push back on BLM activists' calls for arrest, conviction and accountability after unjust uses of lethal force.
States have increasingly passed so-called "Blue Lives Matter" laws that either make it a hate crime to kill a police officer or make the offense punishable by the death penalty.