United Airlines says it's reached a deal with the breeder of Simon, the giant bunny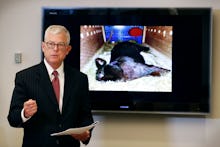 United Airlines said Monday it had reached a "satisfactory resolution" with the breeder of Simon, the humongous continental rabbit that died on an April 20 flight from London to Chicago, according to CBS News.
But the embattled airline still has to deal with the threatened legal action from Simon's would-be owners in Iowa, who bought the big bunny from Annette Edwards, the England-based breeder who put the rabbit on the United flight, CBS reported.
Simon was expected to one day become the world's largest rabbit, with an anticipated weight of up to 40 pounds. The Des Moines-based, three-man investment group that purchased the 10-month-old, three-foot hare wanted to show him off at the Iowa State Fair in August.
Simon's 4-foot-3-inch father, Darius, also owned by Edwards, currently holds the Guinness World Record for world's longest rabbit.
Guy Cook, lead attorney for the investment group that bought Simon, told CNBC it's possible United stuck the rabbit in a freezer during his 16-hour flight. United cremated Simon's remains without his new owners' permission, Cook said.
"They destroyed the proof," Cook told CNBC. "United Airlines can issue any statement they like, but their company's credibility is under question when they immediately cremate the giant rabbit Simon without anyone's consent."
According to CBS, the airline said it offered to perform a necropsy on Simon, but Edwards, the United customer who purchased the flight, declined.
United spokesman Charles Hobart said Simon was alive, well and seen moving around his kennel 35 minutes after the plane landed at Chicago O'Hare International Airport to catch a connecting flight.
"Shortly thereafter, a kennel representative noticed Simon was motionless and that he had passed away," Hobart told CNBC while declining to address the cremation allegations.
Simon's owners haven't disclosed how much they plan to sue for, but CBS reported would seek the estimated $2,300 cost of buying and transporting Simon along with anticipated future earnings.
The New York Daily News reported PETA has called for United to change its policies on transporting animals. Department of Transportation data reported in 2016 showed United Airlines had the second highest incident rate of animal flight injuries, with nine deaths and 14 injuries out of 109,149 pets carried, according to the Daily News.