Hanford Nuclear Site: Tunnel containing nuclear waste collapses in Washington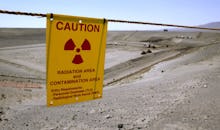 The Department of Energy Richland Operations Office declared an emergency at the Hanford Nuclear Reservation in Washington state on Tuesday, after a "20-foot-by-20-foot section of soil caved in where two underground tunnels meet," NPR reported. The tunnel's contents, including trains, were contaminated with nuclear waste.
No workers were in the tunnel at the time, but some employees close to the collapse were evacuated and others in the area were told to remain indoors and "take cover" as a precautionary measure, according to NBC News.
"This is a serious situation, and ensuring the safety of the workers and the community is the top priority," Washington Gov. Jay Inslee said in a statement. "Our understanding is that the site went into immediate lockdown, in which workers were told to seek shelter and all access to the area has been closed."
Spokeswoman for the Oregon Energy Department spokeswoman Rachel Wray, meanwhile, cautiously told USA Today, "Hanford is 35 miles away from Oregon. We are concerned about Oregonians' health and that concerns the food we eat."
However, Destry Henderson, deputy news manager for the Hanford Joint Information Center, told NBC News the situation was under control. "I would underscore this is confined to a small area of the Hanford site," Henderson said. "There are no reports of injuries, no reports of a radiological release."
The Hanford Nuclear Reservation, located about 150 miles southeast of Seattle and about half the size of Rhode Island, is considered to be the most contaminated nuclear site in America, according to NPR. 
The site produced plutonium for America's defense program for more than 40 years. It even produced the atomic bomb dropped on Nagasaki, Japan, USA Today noted.
"Nowhere in the DOE Complex is cleanup more challenging than at the Hanford Site in southeastern Washington," the Energy Department said on its website. "Hanford made more than 20 million pieces of uranium metal fuel for nine nuclear reactors along the Columbia River. Five huge plants in the center of the Hanford Site processed 110,000 tons of fuel from the reactors, discharging an estimated 450 billion gallons of liquids to soil disposal sites and 53 million gallons of radioactive waste to 177 large underground tanks."
Although there is still a lot of work to be done at the site, considerable progress has been made to reduce the risks posed to the health and safety of the community and the environment, the department wrote.