7 plus-size women on why you shouldn't be afraid to love your body this swimsuit season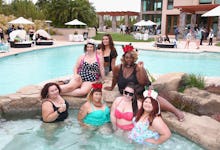 Yes, a pool party at a private mansion in Orange County, California, with a guest list featuring curvy models, plus-size bloggers and TV personalities is as exciting as it sounds. 
What made it even better? It was a party with a purpose.
On Saturday, Torrid, a fashion brand specializing in sizes 10-30, hosted their second annual pool party in celebration of its #TheseCurves campaign, which launched at the end of January. 
In between jumping in the pool (despite cold temperatures) and taking selfies with one another in front the gorgeous views at the Monaco Mansion, some of the body positivity advocates in attendance, like the event's host, comedian Nicole Byer, and blogger and designer Gabi Gregg, took the time to sit down with Mic and talk about "bikini bodies" and how this term has come to be represented in the media and on social platforms. 
It's no secret that in the months leading up to summer, there is an influx of magazine headlines and advertisements touting things like, "Get bikini body ready" and "six-week tone down." 
So, we asked Byer, Gregg and five other women at the event, what advice they'd offer to people of any size — "summer body" insecurities can affect anyone — who see these advertisements and feel shy or afraid to throw on a bathing suit and head to the beach. 
I think the thing to do is take [the ads and headlines] with a grain of salt. Unfortunately, I think that that kind of saturation is never going to end. You're always going to see those kinds of ads. And it's just the culture that we live in. The diet industry makes money off of women hating their bodies. And I think the most radical thing you can do is be comfortable in your skin and realize that, you as you are right now — whether you're thin, you're fat, you're super fat, you're super thin, and everything in between — that you are swimsuit-ready. And that, in all honesty, nobody else matters but you, whenever you're wearing that swimsuit. Feel good in your skin.
If you are too afraid to wear a bathing suit or a bikini, buy one, put it on, and go live your life and have fun. You don't have to have a certain type of body to wear a bikini. You don't have to have a certain type of body to have a bathing suit.  You don't have to have a certain type of body to have sex. You can just be in your body. Grab your fat and be like, "If I don't like it, I'll change it." But for the moment, live your life, embrace it and fucking love it.
Let me break it down for you very simple. Let's not even talk about self-love in this equation. Would you rather be fully nourished and have a super fun vacation in a swimsuit or would you want to go on a vacation, half-starved with no energy and constantly worried about your body? Those are your options. So if you chose the "summer slim down," you're literally just setting yourself up for the worst vacation ever. Where if you just say, "Hey, screw it, I'm just going to buy a suit in the size I wear now and whatever," you're just going to be the same person but now on vacation.
Why are you afraid? There's no one that you have to worry about when you put on that bathing suit. You don't have to be perfect. You still need to live and you still got to put on that bathing suit. So we got to do it here or later, but it has to happen. I think just embrace yourself because you don't have to worry about anyone else but yourself.
I think my biggest piece of advice to any woman looking to wear swimwear for the first time in a long time is just to realize that everyone at the beach is having fun and worried about their friends and themselves. They're not really there to look at other people. And the first time you go to the beach and you look around, you realize you're not the only one who has cellulite, you're not the only one that has rolls and no one really cares, they're just enjoying themselves. They're not there to go and judge everyone else. They're there to have a good time. So when you realize you're not going to be the center of attention, that's when you can really have a great time and realize that you can find a good swimsuit you like that's supportive.
Fed up with the lack of options available for curvy women, Gregg has also created her own line with Swimsuits For All. 
"Most swimwear brands are still missing plus sizes," she said. "The average American women is a size 14 or around there and so many women wear above a size D. We need swimwear options that are supportive and cute and cool and fashion-forward and not, you know, these skirted swimsuits." 
Literally your body doesn't change regardless of the weather, so you shouldn't have to change it. It's OK to love your body through whatever season and I understand summer, it advertises, you know, not having as many clothes on, the sun's shining... But, just know your body is good enough the way it is. Don't feel pressured to change because of what society's telling you, because of what beauty standards are telling you.
Torrid Model Search Winner 2017 Maria Gimena, @mariiagiimena
For all of you guys out there that are kind of shy this summer to wear a bikini, a tube top, anything for that matter, just remember that Torrid has awesome stuff for you, and wear whatever you want. Whatever makes you feel good, that comes through with confidence and just show it through.