Department of Homeland Security investigating sexual abuse allegations at Newark airport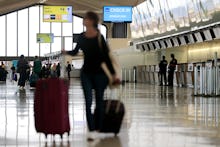 The Department of Homeland Security is investigating horrifying allegations of hazing within the U.S. Customs and Border Protection Agency office at Newark Liberty International Airport in New Jersey. According to NBC, allegations include veteran officers sexually abusing newer officers and reportedly duct-taping victims to what they described as a "rape table."
"I'm afraid for my life, my safety," CBP officer Diana Cifuentes told NBC. "This is terrorizing. How is it that officers believe they're free to do whatever they want to do?"
In a statement, a CBP spokesman told Mic that the investigation into the allegations is ongoing and will be led by the Department of Homeland Security Office of Inspector General with the assistance of the CBP Office of Professional Responsibility. The CBP spokesman added, "We do not tolerate corruption or abuse within our ranks, and we cooperate fully with all criminal or administrative investigations of alleged misconduct by any of our personnel, whether it occurs on or off duty."
According to officers who spoke to NBC 4's New York I-Team, the alleged abuse has been happening for years, mostly in a conference room in the airport's Terminal C.
"Hazing wouldn't do this justice. This is complete assault. They take you in a room and your fellow officers are all watching as officers grab you," CBP officer Vito Degironimo told NBC. Degironimo said clothing was never removed during the abuse, however, the hazing involved "the grinding of genital areas on victims."
"Once the lights go out, they grab you up like a gang, and they forcibly throw you on the table and one officer ended up mounting me and pretty much riding me like a horse," Degironimo said. "I'm grabbed by other officers against my will. I don't know how much more criminal you can get."
Cifuentes said the harassment "escalated" after a fellow officer brandished his weapon in her direction.
"I was very afraid for my life," she said. "I took a deep breath and kept on typing like nothing was happening. I know that if I reacted either he was going to pull the trigger or I was going to draw the weapon myself and shoot him."
This isn't the first time Homeland Security employees have been accused of hazing. Between 2007 and 2009, seven members of the Coast Guard — which is under Department of Homeland Security jurisdiction — were convicted through court martials for hazing, the Hill reported.
May 9, 2017, 6:15 p.m: This story has been updated.