Claremont McKenna students may not graduate after protesting right wing Heather Mac Donald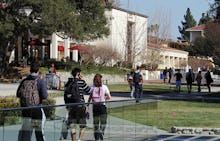 It's graduation season at colleges and universities across America, but up to four students at one prestigious liberal arts school may not get to walk across the stage because of their protest of conservative writer Heather Mac Donald — who believes that racial bias in the criminal justice system is a myth that puts police officers' lives in danger.
On April 6, Mac Donald gave a speech at Claremont McKenna College, which is located roughly 40 minutes east of Los Angeles. She was met by a group of 250 students from CMC and neighboring colleges. The protesters chanted slogans of "Black Lives Matter" and eventually shut down the talk. Some of the protest was captured on social media.
In the video, protesters are seen chanting, "Shut it down!" while they lock arms and block the entrance of the auditorium in which the talk was scheduled to be held.
The scene was similar to other protests that have rocked college campuses recently. In 2017 alone, the University of California at Berkeley canceled a speech by conservative provocateur Milo Yiannopoulos after protests turned violent. A different speech by conservative stalwart Ann Coulter was scrapped in April amid fears that it, too, would turn violent.
The protest at Claremont McKenna, a small campus that enrolls just over 1,300 undergraduates, earned national attention and was covered by the Los Angeles Times, Washington Post, and Fox News. In total, 10 students are under investigation across the consortium of colleges that took part in the protests. 
Students involved in the protest now say that the school's administration is threatening to prevent them from walking at graduation on May 13 and withholding their transcripts for violating the school's code of conduct. 
One student, who spoke to Mic on condition of anonymity for fear of being targeted by administrators, said that the group protested Mac Donald because "she is known for spewing anti-black rhetoric and insinuating hate speech towards black students on college campuses." 
"Nothing was vandalized, no one was hurt," the student said. "Almost a month passed without any word from the administration."
The protesters have started an online petition, in which they say that "most of the students targeted in the investigation are seniors and students of color." Also in the statement, they make their case for protesting conservative speakers like Mac Donald. "While inflammatory speakers are framed as generating open dialogue on campus, they merely create dangerous campus environments for students of color," the students wrote. "The institution's financial backing of speakers who examine Black livelihood, suggesting its debatability, shows that fraudulent calls for open dialogue take precedence over students of color." 
In a letter sent on May 3 by Peter Urvin, the school's dean of students that was obtained by Mic, the protesters were notified that their conduct during the demonstration was being investigated by the school. "if found responsible, the potential sanctions in your case may include suspension. The letter states that "the time periods provided for in the [investigation] mean that your case may not be resolved until after the upcoming Commencement Ceremony on May 13, 2017. This raises questions both with respect to the effective date of your degree and the timing of your eligibility to participate in Commencement."
However, the student protesters say they are weary of participating in the school's investigation because of what they perceive to be the school's failure to properly address death threats sent to students of color who took issue with a former administrator's comment that some students "don't fit the CMC mold."
In a statement, Claremont McKenna said that it is "following through on President Chodosh's commitment to hold students accountable" and that the students "will be afforded a full, fair, and impartial process."
In April, the school's president Hiram E. Chodosh spoke to the Los Angeles Times and expressed regret that Mac Donald's talk had been cut short. "Her presentation that is posted on our CMC homepage has already been viewed over 1,400 times," Chodosh told the LA Times. "In the end, the effort to silence her voice effectively amplified it to a much larger audience."