Who are the candidates to replace James Comey? Here's what reports are saying.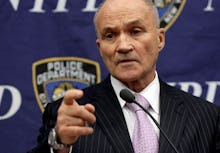 President Donald Trump on Tuesday fired FBI Director James Comey — who was leading the bureau's investigation into possible connections between members of Trump's team and Russian intelligence officials — without naming a replacement. 
The news sent the country into a lurch, with lawmakers on both sides of the aisle — but, admittedly, mostly Democrats — calling for an independent investigation. Many in the news media conjured up ghosts of the Watergate scandal that tanked Richard Nixon's presidency.
Others speculated that contrary to the stated reason for Comey's firing — that his handling of the investigation into Hillary Clinton's private email server left him "not able to effectively lead the bureau" — it actually had more to do with the FBI's ongoing investigation into the Trump campaign's possible ties to Russia.
With Republicans in control of both the House and Senate, the odds of an independent prosecutor being appointed to investigate the sitting Republican president seem slim. In the meantime, the FBI needs a new director. 
Here are the leading candidates so far, according to multiple media reports.
Trey Gowdy
Other than his questionable grooming choices, Rep. Trey Gowdy (R-S.C.) is perhaps best known for heading up the House Select Committee on Benghazi — one of the longest and most expensive congressional investigations in history that ultimately found Clinton, then secretary of state, blameless in the 2012 attack in Libya that killed four Americans.
Gowdy's main qualification for FBI's top job is his familiarity with investigations. And, thanks to his frequent and vocal criticisms of Clinton, Gowdy would please Trump's base, according to CNN political producer Dan Merica.
Gowdy's a clear partisan, endorsing Trump for president in 2016, which could make nominating him an uphill battle — the FBI director is supposed to be politically neutral.
Ray Kelly
Kelly was New York City's police commissioner from 1992 to 1994 and again from 2002 to 2013. He boasts more years as New York's top cop than anyone else, and also has a reputation for being tough on crime — he introduced the city to "Stop and Frisk" policing, of which Trump is a fan but critics say unfairly targets minorities.
Kelly also has counter-terrorism credentials: He ramped up the NYPD's counter-terrorism activities In the wake of the 9/11 attacks. Backers of the program say it stopped terror attacks, but critics point to its spying on mosques as an example of racist policing.
He also served in the Clinton administration, which might make him a more palatable choice for Democrats, as the New York Daily News reported.
Rudy Giuliani
While Giuliani has said he doesn't want the job, he was spotted heading to the White House the same day Comey was canned. What's more, an anonymous source quoted as being "close to the president" by New York Magazine said Giuliani is in the running. 
Giuliani's history as a federal prosecutor, which entails working with the FBI, makes him one of the more qualified options. But like Gowdy, Giuliani would be seen as a partisan choice — he was an early, vocal Trump supporter — and getting him through the Senate would be hard.
Chris Christie
Like Giuliani, Christie has experience as a federal prosecutor. He's also a Trump supporter, which at least puts him in the running, according to Axios' Alexi McCammond — but he likely wouldn't clear the Senate.
Dana Boente
Boente is the third-ranking official at the Justice Department and served as acting assistant attorney general before the appointment of Rod Rosenstein, who wrote the letter enumerating Comey's failures for the Trump administration. He's a career public servant who was nominated by former President Barack Obama in 2015, which could also make it difficult for Democrats to oppose Trump nominating him for FBI director, CBS News reported.
However, it was Boente's office that on Tuesday issued subpoenas to associates of Michael Flynn, Trump's former national security adviser, in connection with the FBI investigation into Flynn's contacts with Russia — the same investigation Trump reportedly fired Comey for pursuing. If Trump wants to signal he has nothing to hide, Boente might be a good choice.