Trump administration cites a segregation-era Supreme Court ruling to defend Muslim ban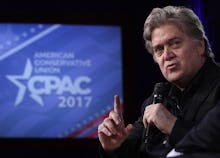 President Donald Trump's Justice Department is arguing that segregationist history is on its side when it comes to its so-called "Muslim ban."
In an effort to defend its travel ban on refugees and citizens of six Muslim-majority countries, Trump's justice department wrote a brief that cited a 1971 Supreme Court ruling that courts shouldn't investigate the motivations of officials who closed public pools in Jackson, Mississippi rather than integrate them, reports the Huffington Post. 
The HuffPo article makes clear that the 1971 ruling in the case, known officially as Palmer v. Thompson, didn't explicitly uphold segregation, "but it did call for courts to avoid investigating the constitutionality of officials' motivations."
The Trump administration brief argues that investigating "governmental purpose outside the operative terms of governmental action and official pronouncements" is "fraught with practical 'pitfalls' and 'hazards' that would make courts' task 'extremely difficult.'"
But, according to Stanford University's Law and Policy Lab director Paul Brest, it was crucial then to uncover officials' motivations — just as it is now. 
"When it is absolutely clear that an official acted for unconstitutional purposes ... [the courts] should be willing to strike down that decision because, even though the decision might have been reached legitimately, a public official violates the constitution when he or she acts for unconstitutional reasons," Brest told the Huffington Post. "It's as simple as that. ... Race discrimination is the best example of where courts are quite willing to take people's motivations into account — or religious discrimination."
The Trump administration has been dogged by its ties to white supremacist power circles. The president's chief strategist, Steve Bannon, is widely credited as the architect of the travel ban and repeatedly compared immigrants to an obscure French novel in which immigrants eat their own feces and try to murder all white people. 
In February, Bannon gave a speech at the Conservative Political Action Conference that the Washington Post called a "nationalist call to arms."
"We are a nation with a culture and a reason for being," Bannon said at the conference. "If you think they're going to give you your country back without a fight, you are sadly mistaken."