'Final Fantasy 7 Remake' News: Cloud's voice actor from 'Advent Children' movie returns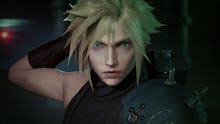 The latest Final Fantasy 7 Remake news is exciting enough, though it's no release date or gameplay demo (we wish...). But this new information that'll have you looking ahead to the day when Final Fantasy 7 Remake finally does touch down. It appears a voice actor for Cloud Strife has been chosen, according to PlayStation Universe — and you probably already know who it is. 
Final Fantasy 7 Remake News: The new voice actor for Cloud Strife
Actor Steve Burton tweeted about his involvement with the upcoming Final Fantasy 7 Remake, which leads us to believe he is indeed reprising the same role he's filled since the original Kingdom Hearts in 2002. 
He's appeared in every game Cloud Strife has been in since then, from Dirge of Cerberus: Final Fantasy VII to World of Final Fantasy. Most notably, he also gave a voice to Cloud in the computer-generated feature Final Fantasy VII: Advent Children. 
The soap opera darling also appeared in Days of Our Lives, General Hospital and The Young and the Restless. So if you haven't heard his voice as Cloud before but happen to love your soap operas — or just live with someone who does — chances are you may have seen him in one of those popular soaps.
Given that Burton has represented Cloud in all of the character's previous voice-acting appearances, it's not exactly world-shaking that he should have been chosen to give the brand new vision of Cloud a voice in Final Fantasy 7 Remake. 
Final Fantasy 7 Remake News: Release date 
Unfortunately, despite this bit of news, we're nowhere closer to a concrete release date for Final Fantasy 7 Remake than we were before. We're still keeping our ear to the ground for any new bit of information to leak or be shared, but the last official announcement pegged the remake around fiscal year 2018. It's already so hard of a wait as-is, but the idea that Cloud's been cast for the English dub gives us a little shred of hope to hold on to. 
More gaming news, updates, tips and tricks
Check out the latest from Mic, including our deep dive into how female Overwatch players are dealing with online harassment, an article about a fan movement advocating for more same-sex romance options in Mass Effect, a personal essay about JonTron written by a fellow Iranian-American and an article looking at cultural diversity in Overwatch.