Anti-LGBTQ assaults aren't hate crimes, according to West Virginia Supreme Court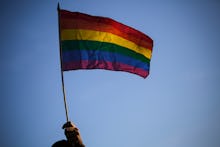 On Tuesday, in a 3-2 decision, the West Virginia Supreme Court of Appeals ruled that the state's hate crime law does not cover anti-LGBTQ assaults, Slate reported.
The narrow decision stemmed from the West Virginia v. Butler case. According to West Virginia Metro News, in 2015, Marshall University football player Steward Butler allegedly attacked Zackary Johnson and Casey Williams for kissing in public. Butler reportedly saw the men from his car, exited his vehicle, shouted homophobic slurs, then physically assaulted both men. Following the incident, Butler was charged with battery and later for violating both Williams' and Johnson's civil rights. As Metro News reported, the current law in West Virginia prohibits civil rights violations based on race, color, religion, ancestry, national origin, political affiliation or sex.
However, Metro News additionally explained, the word "sex" was too ambiguous for the judges and for West Virginia state legislators.
Chief Justice Allen Loughry wrote in the court's opinion, "We find the word to be clear and unambiguous and to have a very different meaning and import than the term 'sexual orientation.'"
As Judge Loughry additionally noted in the opinion, the court was simply interpreting the law as it was specifically written and that House and Senate members in West Virginia have refused to include "sexual orientation" as a protective class on at least 26 occasions, according to Metro News. Thus, as Slate noted, the legislature must not have intended to include LGBTQ people from hate crimes.
"It is imperative to remember that "[i]t is not for this Court arbitrarily to read into a statute that which it does not say. Just as courts are not to eliminate through judicial interpretation words that were purposely included, we are obliged not to add to statutes something the Legislature purposely omitted," the opinion read.
But not everyone on the bench agreed with the opinion. Justice Margaret L. Workman, joined by Justice Robin Jean Davis, wrote a descent of the ruling, saying it was "overly simplistic and constricted."
Workman illustrated her point in her dissenting opinion saying in part:
"If a man stands on a corner kissing a man and is beaten because he is kissing a man, has he been assaulted because of his sex? Yes, but not simply because he possesses male anatomical parts; rather, the crime occurred because he was perceived to be acting outside the social expectations of how a man should behave with a man. But for his sex, he would not have been attacked."