Should assaulting police be a hate crime? Lawmakers across the US are saying "Yes."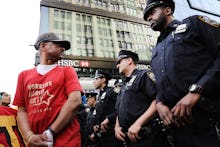 Echoes of the July 2016 fatal shooting of five police officers in Dallas continue to reverberate nationwide, as more and more states push to enact special "Blue Lives Matter" laws making violent acts against cops a hate crime.
Social justice advocates argue the new laws give police greater power to crackdown on protesters and silence dissent.
New York's state senate on Tuesday became the latest legislative body to pass a so-called "Blue Lives Matter" bill, voting 55-7 in favor of the Community Heroes Protection Act. If it's passed by the state assembly and signed by Gov. Andrew Cuomo, the proposed law would "make crimes explicitly committed against law enforcement and first responders punishable as hate crimes," according to a New York State Senate press release.
Republican state senator Fred Akshar, who sponsored the bill, did not return calls for comment.
Under the proposed new law, perpetrators who target cops in violent acts would receive "stiffer penalties" more commonly associated with protecting people on the basis of race, religion and sexual orientation.
In effect, assaulting someone for wearing a blue police uniform would be the same as assaulting someone for being black, gay, Muslim or Jewish.
Louisiana became the first state to pass a Blue Lives Matter law in May of 2016. Kentucky followed suit in March by increasing its own punitive penalties for attacking cops. Arizona Gov. Doug Ducey signed a Blue Lives Matter bill into law on April 17. Mississippi and Maine lawmakers have introduced similar bills as well.
So far in 2017, at least 15 states have introduced or passed so-called Blue Lives Matter bills, according to a March HuffPost report.
Why is this happening?
The Blue Lives Matter cause may be overshadowing the Black Lives Matter movement in the eyes of state lawmakers if these new pro-cop hate crime laws are any indication.
Supporters of Blue Lives Matter legislation point to statistics showing a recent slight increase in police fatalities and a perceived nationwide backlash against cops that some police say has partly been fueled by the Black Lives Matter movement.
New York legislators told Gothamist the Dec. 20, 2014 fatal attack on NYPD officers Wenjian Liu and Rafael Ramos was a motivating factor for them to push the law in Albany.
Do police need more legal protection?
While police fatalities have risen slightly in recent years, the overall numbers have fallen drastically from where they were decades ago, according to data from the National Law Enforcement Officers Memorial Fund.
The organization's website says there were 143 police officers who died in the line of duty in 2016. Spokesperson Jaclyn Barrientes tells Mic that number includes officers who died in car accidents or other duties related to their jobs, in addition to those killed in attacks.
Those 143 police deaths are slightly higher than the 137 officers who died on the job in 2015 and the 136 who died in 2014.
But those numbers pale in comparison to the 1,092 civilians who died during police encounters in 2016, according to the Guardian, or even the 352 people police have killed less than six months into 2017, according to the Washington Post.
The Guardian reports blacks were more than twice as likely as their white counterparts to die in police encounters in 2016. And Native Americans were more than three times as likely to be killed by police the same year.
What's more, while police who kill civilians almost never go to prison, civilians who kill police often never get out of the penitentiary. Federal law even mandates special protection for police dogs attacked by perpetrators, while cops who kill civilian canines are rarely punished.
"Stop resisting!"
Black Lives Matter activists worry Blue Lives Matter laws can be used to lock up protesters who are routinely arrested for minor offenses, like obstructing traffic or disorderly conduct, during major demonstrations. Police sometimes charge protesters with the relatively common misdemeanor offense of resisting arrest, which former New York Police Commissioner Bill Bratton has argued should be a felony.
Some social justice advocates say resisting arrest now could be considered a hate crime under the new and proposed Blue Lives Matter laws.
"That's the go [for police] to call 'stop resisting' even if you're not,"  said New York activist Kimberly Ortiz of the pro-Black Lives Matter group NYC Shut It Down. Speaking with Mic via text message, Ortiz, who has been arrested multiple times over the years at demonstrations, suggested police routinely make false claims of protesters resisting arrest.
"Given that it's already the practice of the NYPD, of course, it will only get worse," Ortiz said. "Law enforcement hates [Black Lives Matter] and will do anything to crush it."