New Orleans Confederate monument of Jefferson Davis taken down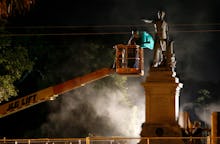 A construction crew removed the second of four Confederate monuments in New Orleans before dawn on Thursday, CNN reported. The crew dismantled a statue of former Confederate President Jefferson Davis, which stood over the city for 106 years.
As they had been for the first monument removal in April, the workers were dressed in body armor. Officials and contractors have reportedly received death threats from opponents of the four scheduled monument removals. The threats stem from heated debates and court battles that have been waged since the New Orleans City Council voted in 2015 to take down the landmarks.
"These monuments have stood not as historic or educational markers of our legacy of slavery and segregation, but in celebration of it," Mayor Mitch Landrieu said in a statement, according to CNN.  "To literally put the Confederacy on a pedestal in some of our most prominent public places is not only an inaccurate reflection of our past, it is an affront to our present, and a bad prescription for our future. We should not be afraid to confront and reconcile our past."
Campaigns against Confederate symbols in the Deep South are not new. But they gained unprecedented momentum after Dylann Roof, a professed white supremacist who idolized the Confederacy's racist legacy, gunned down nine black parishioners at Mother Emanuel AME Church in Charleston in 2015. Since then, South Carolina has moved the Confederate battle flag that once flew on statehouse grounds to a museum.
A group of local activists organized under the campaign Take 'Em Down NOLA has said New Orleans would need to remove more than the planned four monuments to completely wash the city of all its Confederate symbols and memorials. The group has called for the renaming of high schools and city streets that bear the names of Confederate figures, among their more than 100 suggestions.
Thursday's removal drew dozens of people who oppose the removal efforts as well as those who support the removals, CNN reported. Police separated both sides with barriers, as the crowd exchanged insults and threats of violence. It's because of this atmosphere that Landrieu has not announced when the two remaining monuments will be taken down.