'Diablo 3' Necromancer PS4 and Xbox One Release Date: When will the new class hit console?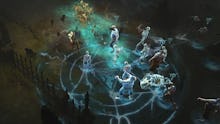 Diablo 3 players looking forward to playing as the upcoming Necromancer class that's currently in beta can jump in and test the class out right now on PC, but Xbox One and PlayStation 4 players are still waiting to get in on the action. While PC players are able to enjoy the new class and the tweaks it brings, console players are stuck waiting for access for the time being. 
Diablo 3 Necromancer PS4 and Xbox One: Release date
The Diablo 3 Necromancer beta is currently underway for both PC and Mac players by way of beta opt-in, as previously announced via Blizzard's official site, but unfortunately the beta is still limited to those users. There doesn't appear to be a date in sight for console players just yet, and Blizzard hasn't updated its beta FAQ to reflect any upcoming dates, either. 
There's no concrete release date for the Necromancer in Diablo 3 proper for PC players just yet either, so, unfortunately, everyone is currently in the same boat they were before. It's good to know, however, that there haven't been any announcements that the Necromancer isn't coming for consoles just yet, so that's a good sign.
More gaming news and updates
Check out the latest from Mic, including our deep dive into how female Overwatch players are dealing with online harassment, an article about a fan movement advocating for more same-sex romance options in Mass Effect, a cool making-of video for Legend of Zelda: Breath of the Wild and an article about what a Bechdel test for gaming might look like.