The 10 best US cities for creative workers to launch a career in the arts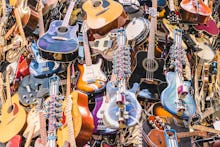 Longing for a career in the arts or already have a toe-hold in a creative industry like film, music or dance? You might wonder if you're living in a city that gives you the best shot at long-term success. As it turns out, some cities are better at nurturing creative talent than others, thanks to a preponderance of everything from arts schools to creative jobs.
Using data from the U.S. Census Bureau, Homes.com identified the top American cities for creative workers. To come up with its rankings, the real estate company compared the 50 most populated Metropolitan Statistical Areas based on four metrics: creative jobs, creative schools, performing arts companies, and motion picture and video companies.
What exactly is a creative job? Homes.com limited the pool to photographers, designers, actors, film producers and directors, film and video editors, dancers, musicians, writers and artists.
Here are the top 10 creative U.S. cities:
10. Milwaukee, Wisconsin
You may think of Milwaukee as the Rust Belt city home to the Milwaukee Brewers and old-school beer makers like Miller, Schlitz and Pabst, but it has plenty to attract the creative class, including the stunning Milwaukee Art Museum and a nascent "creative corridor" in the Walker's Point neighborhood. Ranked seventh in creative jobs and 10th in creative schools — including the Milwaukee Institute of Art and Design and UWM Peck School of the Arts — it's also an affordable place for creatives to get their start, with a cost of living well below the national average.
9. Boston, Massachusetts
Home to the elite Berklee College of Music and Massachusetts College of Art and Design, Boston attracts artistic students from across the globe. Homes.com ranks the city at fourth for creative schools and 10th for creative jobs, making it a great spot for up-and-coming talent. While the cost of living is far above the national average, you can still soak up the arts on the cheap at the Institute of Contemporary Art's free Thursday nights and the Museum of Fine Arts pay-as-you-wish admission after 4 p.m. on Wednesdays.
8. Austin, Texas
If you're a fan of films like Kill Bill, Beavis and Butthead Do America or Sky Kids, you may not have known you were watching a movie made in Austin, but the Texas city ranks fifth in the number of motion picture and video companies per capita. Home to South by Southwest, Austin is also one of the top cities for creatives seeking paid work: According to a 2017 study by Indeed, the city's in the 90th percentile for job market favorability. The average income for residents age 28 to 32 is a decent $42,550, with many millennials seeking housing in the lively South River City neighborhood.
7. St. Louis, Missouri
St. Louis is another city ripe for movie-making: The heart of the "Show-Me State" ranked fourth-best for number of motion picture and video companies per capita. However, the city's true gem is its creative arts colleges, including the University of Missouri-St. Louis' School of Fine Performing Arts and Fontbonne University, pushing it to the No. 2 spot for creative schools in the Homes.com ranking. The city is also considerably more affordable than other areas in the country, making it a great place for artists just getting their start.
6. Portland, Oregon
Clearly quirky in its own right — with the parody show Portlandia filmed on location — Portland, Oregon, is a haven for creative souls. The city ranks fifth in creative jobs, with many opportunities in multimedia arts and animation at studios like House Special and Bent Image Lab. While the cost of living is higher than the national average, Portland residents enjoy below-average unemployment.
5. Minneapolis, Minnesota
It makes sense the former home of Prince would be one of the top cities in terms of artistic opportunities. Since 2013, Minneapolis has experienced a 10.4% increase in creative job growth, outpacing any other industry in the city — especially good news, considering the cost of living also outpaces the national average. "Creative industry sales" added more than $4.5 billion to the city's economy, according to Minneapolismn.gov. The top creative jobs in Minneapolis include media and communication workers, dancers, landscape artists, and set and exhibit designers, according to the city's Arts, Culture and the Creative Economy program.
4. Los Angeles, California
Home to major movie studios and countless actors, screenwriters and dreamers, Los Angeles ranks No. 1 for both creative jobs as well as motion picture and video companies within its city limits. While the city's cost of living far exceeds that of the rest of the country — and has a slightly higher unemployment rate to boot — the City of Angels remains a sacred ground for aspiring creatives, as portrayed in 2016 critical darling La La Land.
3. Seattle, Washington
Seattle was the epicenter of the grunge scene in the 1990s, but aside from an awesome music culture, today the city is also recognized for its art schools — including Cornish College of the Arts — along with job opportunities for creative workers in industries like baking, creative and music direction. Despite an overall chill vibe, Seattle is one of the most expensive U.S. cities to live in, although average salaries are also in the 98% percentile.
2. San Francisco, California
The No. 1 city for creative schools in the country, San Francisco is home to schools like California College of Arts — referred to as the "innovation corridor" because of its proximity to Silicon Valley — the Academy of Art University, the San Francisco Art Institute and many more. San Francisco also ranks near the top of Homes.com's list for performing arts companies and motion picture and video industries. The average income for residents age 28 to 32 across industries is more than $67,000, plus work-life balance and job stability are better than in 86% of comparable cities.
1. New York, New York
The "city that never sleeps" is famous for its theater scene both on and off Broadway. But it also ranks second for creative jobs, third for motion picture and video companies, and fifth for creative schools like Juilliard and Pratt.
Although New York City rent is sky-high, art directors there earn a median salary of $91,000, multimedia artists and animators can make around $61,000, and producers and directors bring home roughly $70,000, according to PayScale. The city is also a source of artistic inspiration thanks to the Metropolitan Museum of Art, the Modern Museum of Art and countless independent art galleries.
Sign up for The Payoff — your weekly crash course on how to live your best financial life. Additionally, for all your burning money questions, check out Mic's credit, savings, career, investing and health care hubs for more information — that pays off.