Oklahoma Republican wants to turn 82,000 non-English-speaking kids in to ICE to save money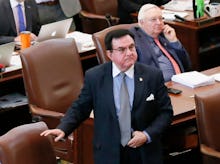 A Republican Oklahoma lawmaker is being hotly criticized after proposing the state cut spending by rounding up its 82,000 non-English-speaking students and turning them over to U.S. Immigration and Customs Enforcement.
Republican Rep. Mike Ritze is also being criticized by members of his own party for suggesting Oklahoma isn't obligated to provide an education to undocumented immigrants.
The state is facing a $900 million budget gap and Ritze told local CBS affiliate KWTV that turning the kids over to ICE could save $60 million.
"Identify them and then turn them over to ICE to see if they truly are citizens," Ritze said in a Wednesday news segment, adding, "Do we have to really educate non-citizens?" 
Actually, yes, you do.
In its 1982 Plyler v. Doe decision, the U.S. Supreme Court ruled states can't deny students a free public education based on their immigration status, according to the Washington Post.
That means Ritze's suggestion is not only insensitive, but it would also be illegal.
Oklahoma state schools superintendent Joy Hofmeister, who is a Republican, criticized Ritze's rhetoric on Twitter.
The Washington Post reported Republican House floor leader Jon Echols called Ritze's plan "a bad idea."
"I have no desire to target ESL students," he said.
Ritze himself has yet to comment on the criticism.